Winter Olympics 2022: Where to next for Kamila Valieva figure skating doping probe?
The figure skating saga which has tarnished the Beijing Winter Olympics could drag on for years, while the sport's ruling body hasn't ruled out making a major change to the competition.
Russia's Kamila Valieva came a disappointing fourth in the Beijing Olympics women's single event on Thursday, after more than a week of intense scrutiny over a failed doping test.
Her Olympics is over — but the saga is not.
A week into the Games, it emerged the 15-year-old had tested positive in December for trimetazidine, an angina medication that is banned because it can increase blood flow efficiency and help endurance.
The Court of Arbitration for Sport (CAS) on Monday ruled that she could carry on competing in the Chinese capital. But that did not mean the Russian has been cleared of doping and she could still face punishment at a later date.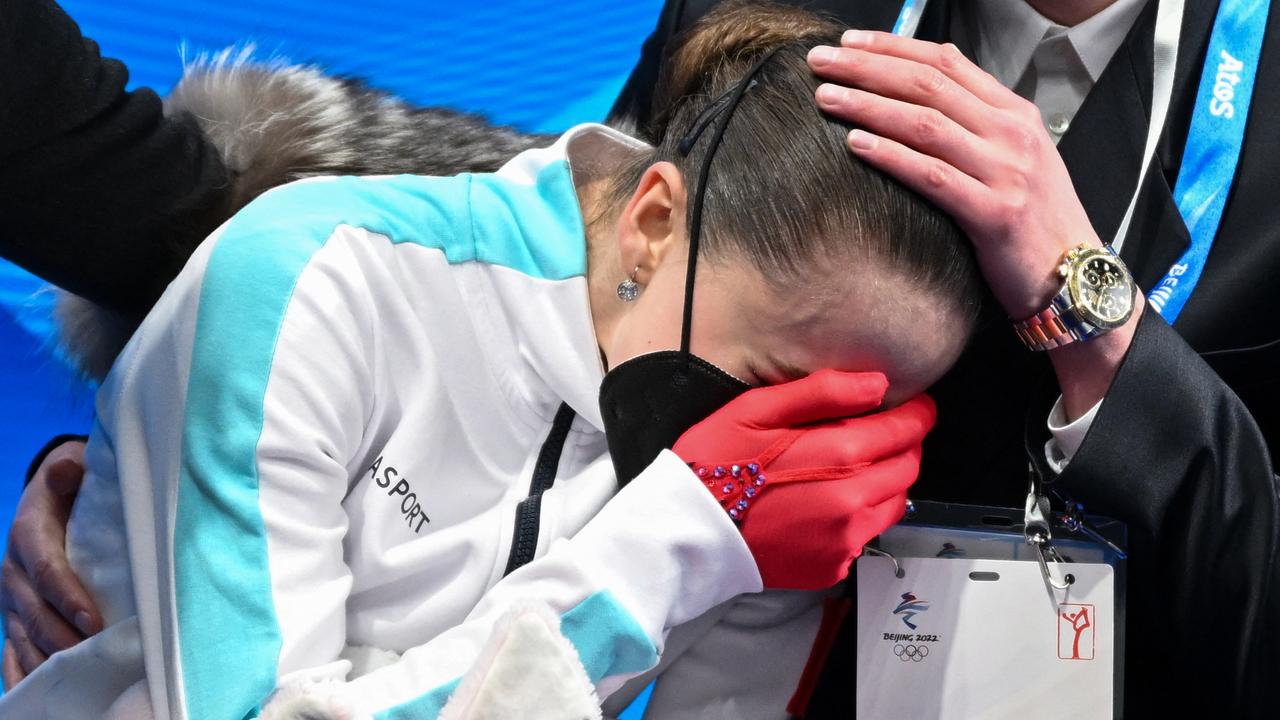 Russia's Kamila Valieva was emotional after falling in the final.
Here's what is expected to happen next:
No medals?
The International Olympic Committee (IOC) had said there would be no medal ceremony for the women's individual event if Valieva finished in the top three.
Her non-podium finish made that point moot — but there is still the matter of the medals for the team event, in which the teenager led the Russians to gold.
They have yet to be awarded, and the IOC has said it will make no decision until "due process" has been followed to decide if Valieva infringed the World Anti-Doping Code.
It is not clear if the whole Russian team will be disqualified if she is found guilty.
International Skating Union (ISU) regulations only collectively disqualify a team if a doping test is failed in competition — which is not the case here.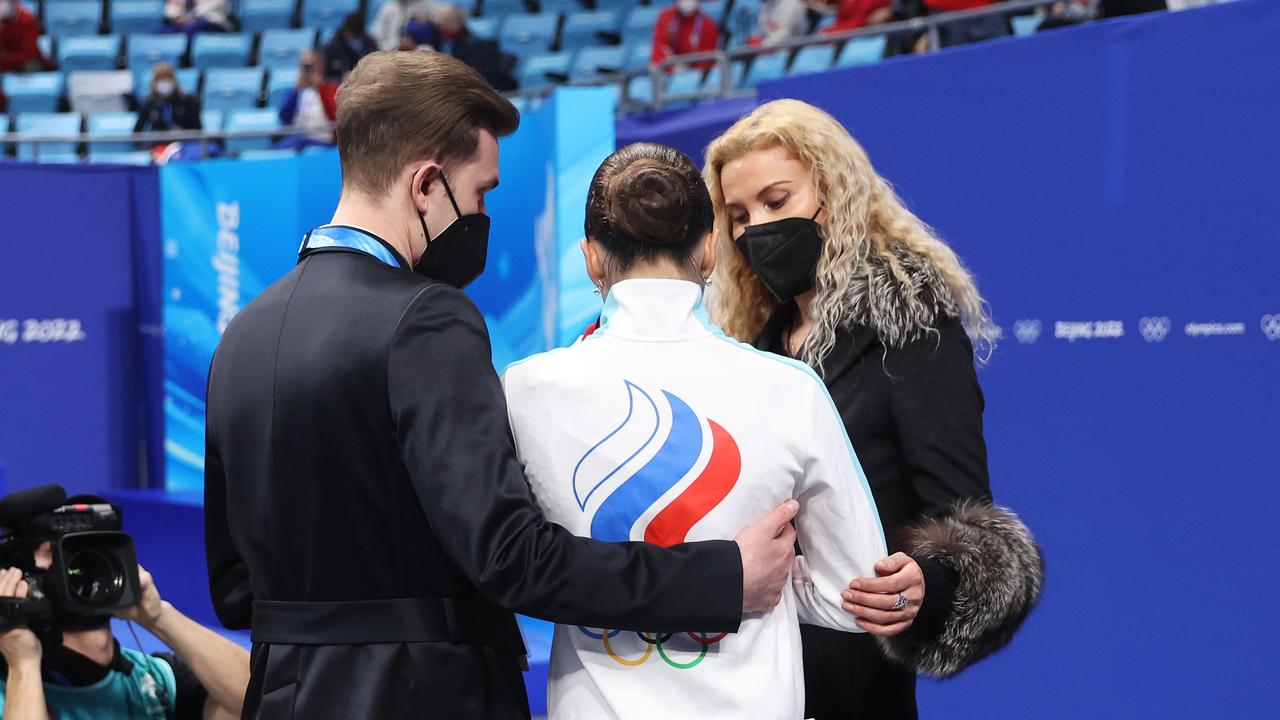 Kamila Valieva is comforted by her choreographer Daniil Gleikhengauz (L) and coach Eteri Tutberidze (R).
Process 'could take years'
The Russian anti-doping agency, RUSADA, had initially suspended Valieva for the failed test, but lifted the ban a day later — we still don't know on what grounds.
RUSADA's investigation into whether she broke anti-doping rules continues. Valieva has the right to request analysis of her "B sample" — when athletes take doping tests their samples are split in two.
But in the CAS hearing, Valieva provided a reason for why the trimetazidine was in her system — because of "contamination" from her grandfather's medicine.
She claimed it could have come from using the same dishes or a glass as her grandfather.
RUSADA's eventual ruling can be appealed by the World Anti-Doping Agency (WADA) or the ISU through CAS.
Bill Bock, former General Counsel for the US anti-doping agency USADA, told AFP he expected the whole process to take at least a year.
"It can take years if it goes to the Swiss Federal Court, which is the final judge of the CAS decisions," said David Pavot, law professor and anti-doping expert at the University of Sherbrooke in Canada.
Possible sanctions
Valieva is considered a "protected person" under WADA rules because she is under 16.
Had she not been such a high-profile athlete who had already won a medal when the test result was received, her case might never even have been reported.
Her status also means that she could receive lighter sanctions. Instead of a four-year ban, Valieva could get anything from a warning to a two-year ban.
Bock said her case was unique because the rules relating to protected persons only came into effect in 2021.
Valieva can still compete until the case is resolved.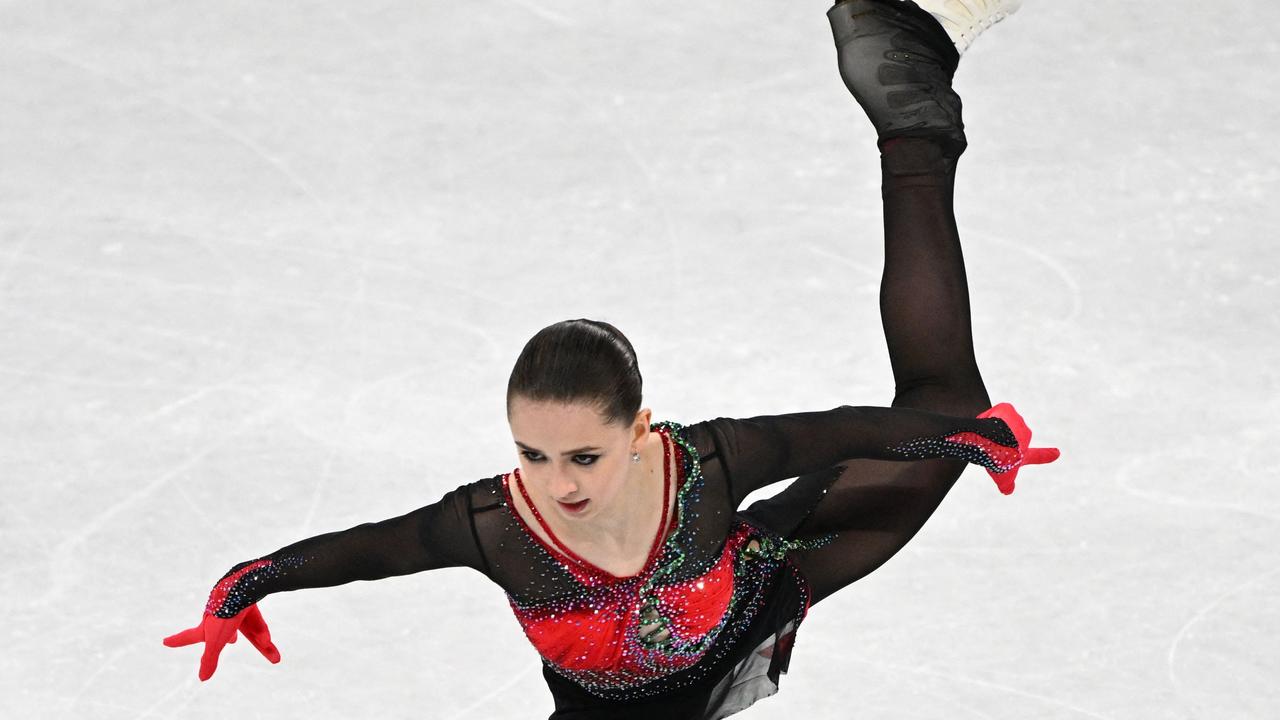 Russia's Kamila Valieva competes in Beijing.
Consequences for Russia?
Russia is already under sanctions for a massive state-sponsored doping program that reached its peak at the 2014 Sochi Winter Olympics.
Senior IOC member Denis Oswald, who oversaw the investigation into the Sochi doping, said Valieva's case was different.
"The state doping was a big system and it doesn't seem to be such a situation here," he said.
But the entourage around Valieva — her coaches and advisers — is being investigated.
On Friday IOC President Thomas Bach said that "the ones who have administered this drug in her body, these are the ones that are guilty".
He admitted though that the IOC itself had "extremely limited means to address (any finding of wrongdoing)".
"At the end, this is a question where we need the support of governments," he said.
RUSADA has already indicated it has begun an inquiry into the entourage.
WADA have also separately said they will investigate, which could mean parallel inquiries running.
"Obviously, because of the past and the liabilities and the importance of the case, WADA's departments will I think look at the case closely," said Pavot.
There have also been suggestions that the United States could prosecute Russian individuals allegedly involved in the case.
The Rodchenkov Anti-Doping Act (RADA), passed by the Trump administration in 2020, allows the United States to impose criminal sanctions on people involved in doping at international competitions that feature US athletes, broadcasters and sponsors.
USADA head Travis Tygart told AFP last week that he thought the law, named after the Russian who oversaw the doping program at the Sochi Olympics, could be used in the Valieva case. "We're a long way from that happening because all the facts aren't out. But we'll see," Tygart said.
Competition changes?
Figure skating's governing body will vote later this year on a proposal to raise the minimum age at which figure skaters can take part in senior competitions, it said in an email to AFP Friday.
The sport has been under intense scrutiny at the Beijing Olympics after Valieva was allowed to compete despite failing a drugs test before the Games, with her youth cited as a factor in the decision.
IOC's slap for Beijing Winter Olympics organisers
The IOC called an immediate meeting with Chinese organisers to remind them to keep politics out of the Beijing Olympics, president Thomas Bach said Friday, after a local spokeswoman hit back at "lies" about Xinjiang.
"This problem we did not ignore," International Olympic Committee chief Thomas Bach said, a day after a spokeswoman for the local organising committee, BOCOG, hit back at questions from foreign media about Taiwan and human rights in Xinjiang.
"We were in touch with BOCOG immediately after this press conference and then both organisations, BOCOG and the IOC, have restated the unequivocal commitment to remain politically neutral, as it is required by the Olympic Charter." The United States has led a diplomatic boycott by some Western nations at the Games over rights concerns in China, especially the fate of the mostly Muslim Uyghur minority in China's northwestern region of Xinjiang.
Campaigners say that at least one million Uyghurs and other Turkic-speaking Muslims have been incarcerated in camps in Xinjiang, while there are also allegations of forced sterilisations of women and forced labour.
"These issues are irrelevant to the Winter Games but I still feel obliged to make a quick comment again," said BOCOG spokeswoman Yan Jiarong on Thursday, after foreign reporters twice asked about Xinjiang.
"The questions are based very much on lies. Some authorities have already disputed such false information with a lot of solid evidence." China vehemently denies all charges over its treatment of Uyghurs and maintains the camps are vocational training centres aimed at reducing the appeal of Islamic extremism.
Yan was also bullish on the question of Taiwan. China claims the self-ruled democratic island as part of its territory to be retaken one day, by force if necessary.
At all Olympic Games, athletes from Taiwan compete under the banner of "Chinese Taipei".
"This is something that we really have to take a solemn position on," said Yan, following a question about Taiwanese athletes at the Games and their attendance at Sunday's closing ceremony.
"What I want to say is that there is only one China in the world. "Taiwan is an indivisible part of China and this is a well-recognised international principle and well recognised in the international community.
"We are always against the idea of politicising the Olympic Games."
—AFP
IOC BOSS LASHES 'CHILLING' OLYMPICS MOMENT
IOC president Thomas Bach said Friday he was "very disturbed" by Russian skater Kamila Valieva's performance in the Beijing Olympics final when she fell several times and seemed overwhelmed by the doping scandal that has engulfed her.
"I was very disturbed when I watched it on TV," Bach said, adding 15-year-old Valieva was treated with "a tremendous coolness" by her coaches after the calamitous free skate routine which saw her finish fourth and miss out on a medal.
After a visibly upset Valieva finished her routine, her famously demanding coach Eteri Tutberidze repeatedly asked her teenage charge "why did you let it go?" Bach said: "When I saw how she was received by the closest entourage with such a tremendous coolness, it was chilling to see this." He told a news briefing that seeing Valieva's Russian teammate Alexandra Trusova also highly agitated after her silver medal-winning routine confirmed his concerns about the entourage around the young skaters.
"I was pondering about whether you can be really so cold but when I saw and read today how Alexandra Trusova was being treated, I am afraid that this impression I had last night was not the wrong one.
"All of this does not give me much confidence in this close entourage of Kamila."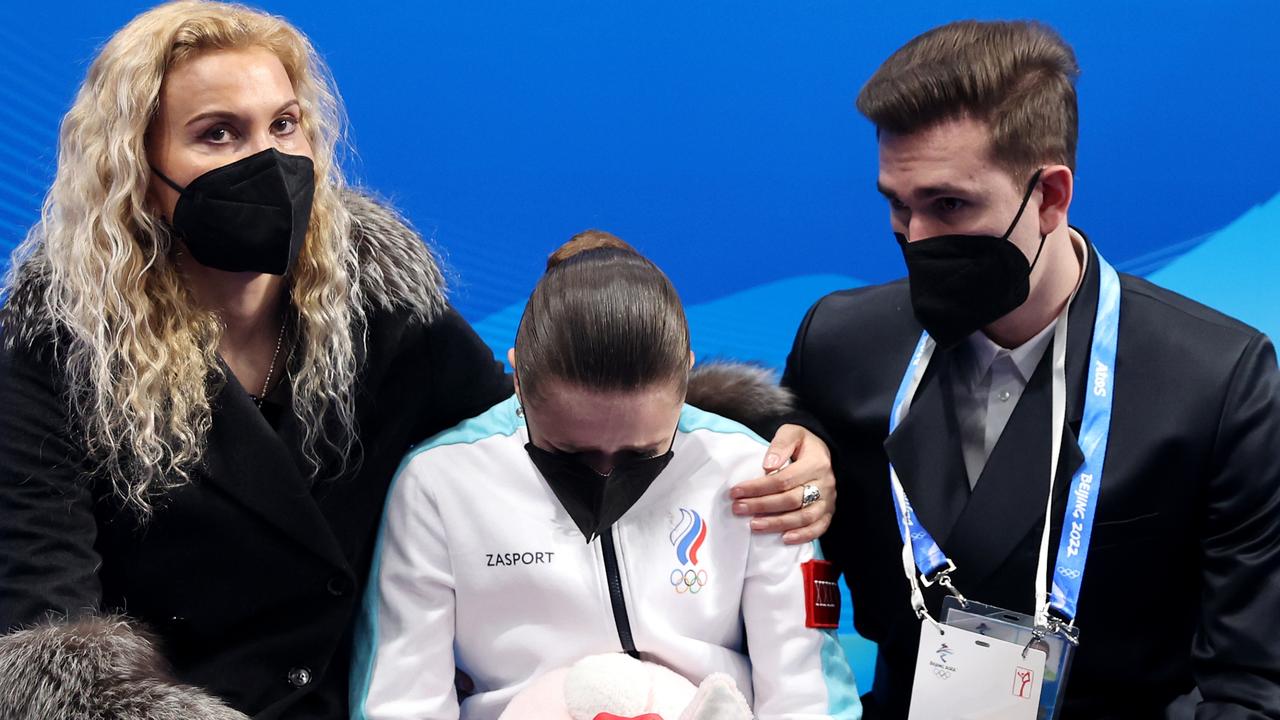 Kamila Valieva with choreographer Daniil Gleikhengauz (R) and coach Eteri Tutberidze (L).
GU BEAUTY! SNOWBOARD PRINCESS COMPLETES GOLDEN GAMES
Californian-born Chinese superstar Eileen Gu capped her hugely successful Beijing Olympics by winning freeski half-pipe gold on Friday for her third medal of the Games.
The 18-year-old has been one of the stars of the Olympics and she added the half-pipe title to a previous gold and silver medal in Beijing after another commanding performance.
Gu went top with a first-run score of 93.25 before extending her lead with 95.25 on her second attempt.
She had the title wrapped up before she even started her third and final run, and she celebrated with her coaches at the top of the half-pipe before making her way down with a relaxed and joyous victory lap.
Canada's Cassie Sharpe took silver on 90.75 points, while another Canadian Rachael Karker claimed bronze on 87.75.
China's Zhang Kexin required medical attention after a crash on her third run but she was able to get up and ski unaided to the finish area.
Gu becomes the first person to win three medals in three different freestyle skiing disciplines at the Winter Olympics.
She said after qualifying on Thursday that her grandmother would be in attendance for the final to watch her ski for the first time.
She posted pictures of the pair wearing sunglasses and posing with Gu's Olympic medals on Instagram on Thursday evening.
Gu said after qualifying for the final that her grandmother was likely to be "unfazed and unimpressed" by the massive attention surrounding her famous granddaughter
MORE TO COME.
China's Eileen Gu is shocked at her stunning half-pipe score.
RUSSIANS BLOW UP OVER FIGURE SKATING FALLS
Kamila Valieva's notoriously demanding coach appeared to have little sympathy after the teenage Russian's hopes of Beijing Olympic figure skating gold evaporated Thursday in a disastrous performance.
The 15-year-old was in the global spotlight after the Court of Arbitration for Sport controversially ruled that she could stay on at the Games despite failing a drugs test.
Her tender age also put the focus on the people around her and especially Eteri Tutberidze, who has been highly successful in developing a stable of world-class teenage Russian skaters but whose strict methods have been questioned.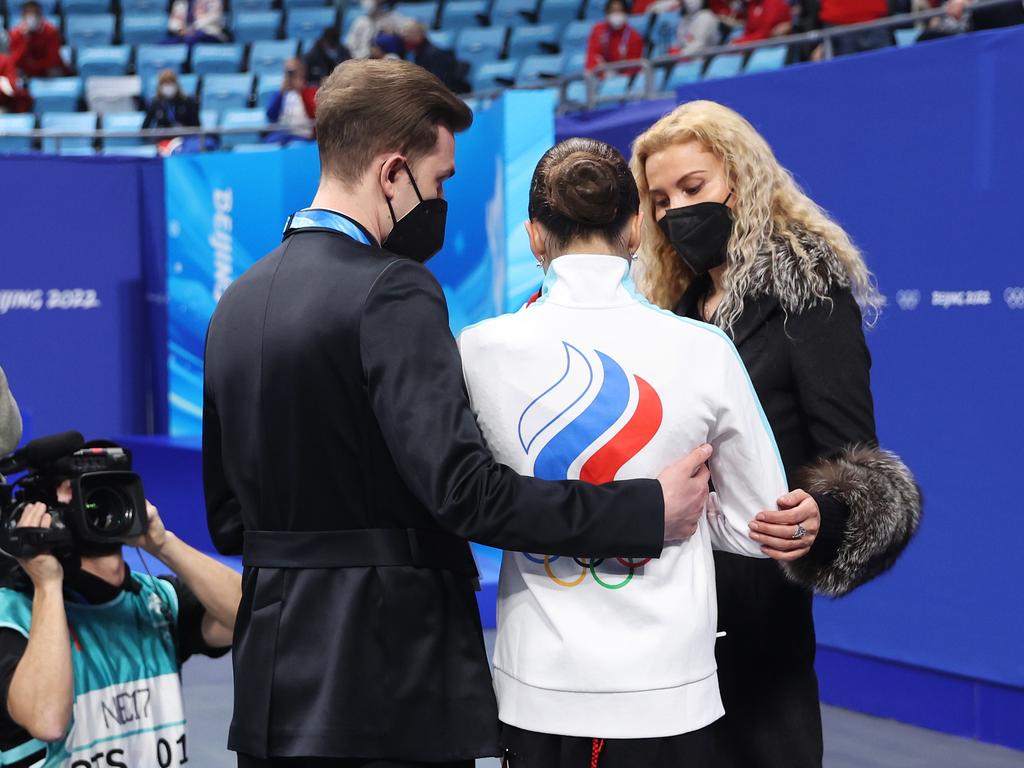 Kamila Valieva of Team ROC is confronted by choreographer Daniil Gleikhengauz (L) and coach Eteri Tutberidze (R) after the Women Single Skating Free Skating. Picture: Matthew Stockman/Getty Images
The 47-year-old Tutberidze, dubbed the "Snow Queen", was the first person to greet the visibly upset Valieva as she came off the ice, her hopes of gold or even a medal in tatters after falling several times in a calamitous free skate that saw her finish fourth.
"Why did you let it go? Why did you let it go? Tell me," Tutberidze can be heard demanding of her young charge, as Valieva tries to compose herself.
"You let it go." Tutberidze later put her arm around a visibly upset Valieva as she waited for her score.
Valieva's 17-year-old teammates Anna Shcherbakova and Alexandra Trusova, who are also coached by Tutberidze, won gold and silver respectively.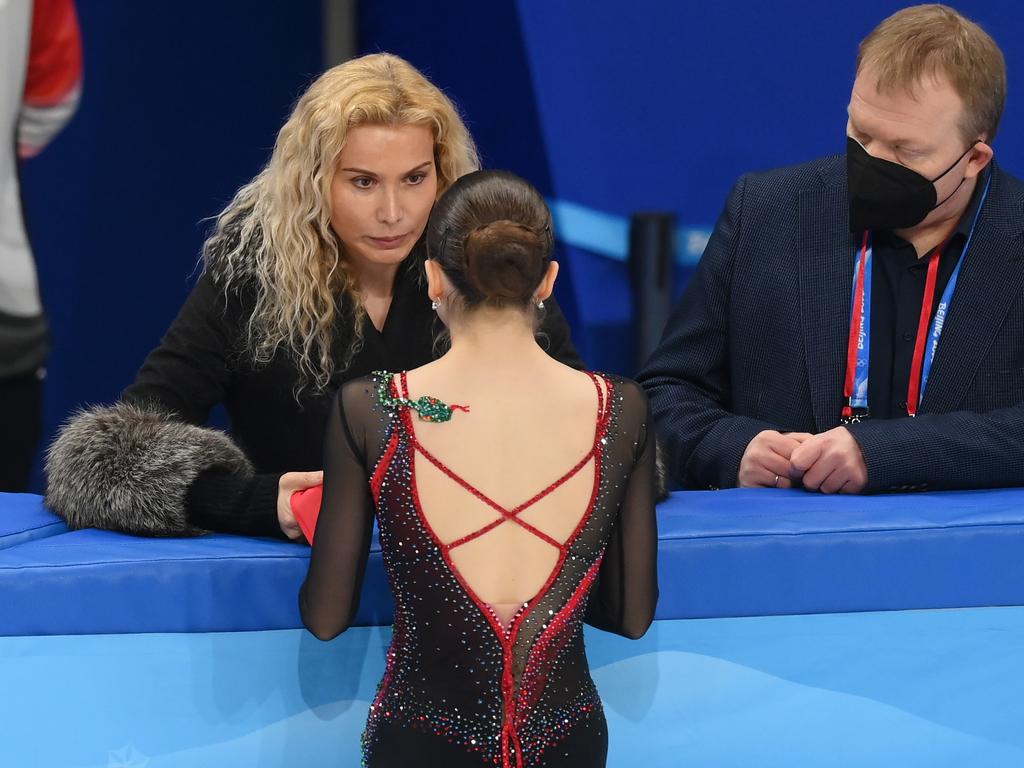 Eteri Tutberidze (L) was clearly unhappy with the performance of Kamila Valieva. Picture: David Ramos/Getty Images
Shcherbakova had sympathy for Valieva, who had been the pre-Games favourite and could yet be punished for taking the banned substance trimetazidine, which boosts endurance.
"I saw Kamila's performance and I really felt for her because from the first jump you could see that it was going badly," said Shcherbakova.
There were high emotions in the Russian camp in the immediate aftermath, with Trusova angry and heard to say: "I hate this sport, I hate this sport, I hate all of it. I won't go to the medal ceremony … I don't want to go." Valieva could be seen being hugged by a member of the Russian coaching stuff. Trusova later composed herself, but did not rule out quitting skating. "Of course these were only emotions and I'll think it over and later on I'll take a decision what I'm going to do in the future," she told reporters.
RUSSIAN SKATER'S GOLD MEDAL MELTDOWN AMID DOPING DRAMA
By Jacquelin Magnay
Kamila Valieva stumbled and bumbled her way into fourth place in the Olympic women's figure skating final – an excruciating performance that instantly eased the intense theatrics around her Christmas Day positive drugs test.
Gold medal favourite Valieva, just 15, nailed her first of three quad jumps in the four minute free skate routine to Ravel's Bolero on Thursday night at the Capital Stadium in central Beijing, but then fell on her triple axel and then a quad toe. From one mistake to another and then another, the gold medal fell from her grasp, and then so did second and third place.
The Valieva meltdown on ice meant officials could conduct the flower presentation and the medal ceremony without any "asterisk'' or sending of the medals in the mail. The winners were two of Valieva's Russian training partners Anna Shcherbakova and the quad jumping Alexandra Trusova, and the solid performing third placed getter Japanese skater Kaori Sakamoto.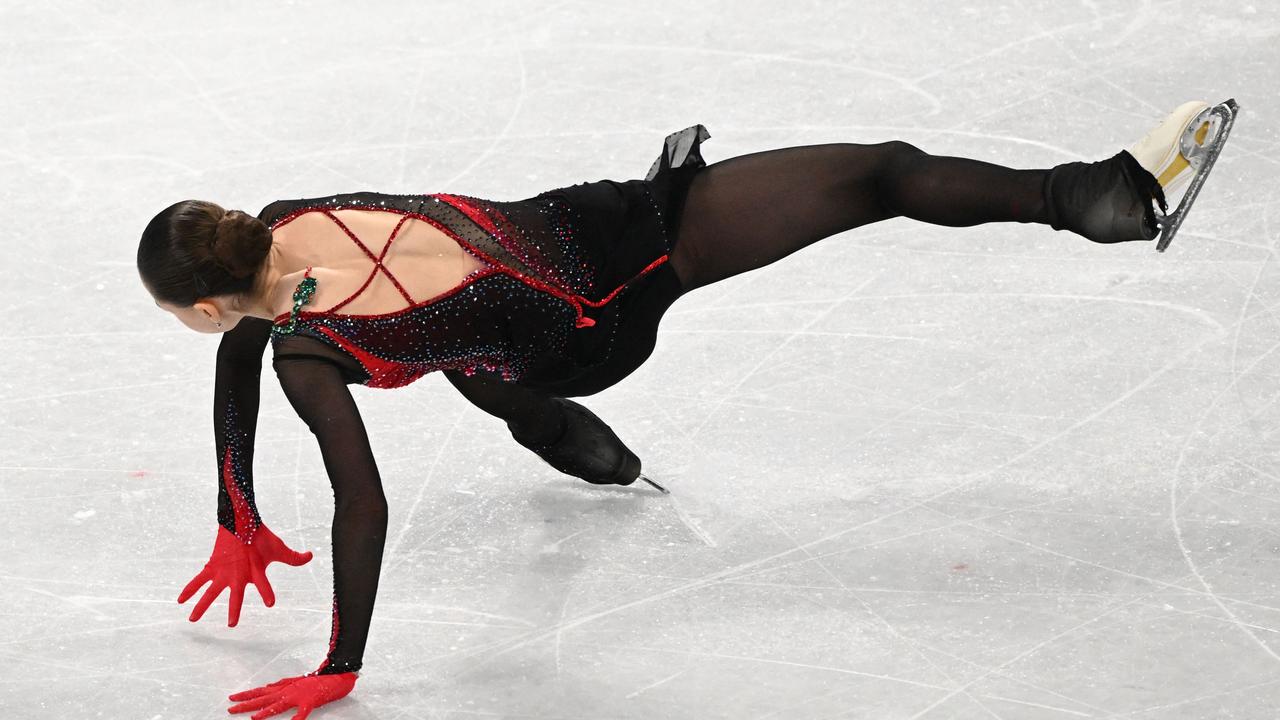 Russia's Kamila Valieva falls as she competes in the women's figure skating inal. Picture: AFP
Highlighting the dramatic pressure that had swirled around the event for a week, Trusova was also inconsolable, apparently upset for her friend Valieva, and perhaps ruing how close she had come to snaring the gold medal herself. At one point it seemed that she may not attend the flower and mascot presentation ceremony.
But Shcherbakova said any emotion she was showing was elation. "I am only happy. I still haven't realised what happened. I can't believe the Olympics are already over for me," she said.
She added: '"My goal all along at these Olympic Games was to go out on the Olympic ice and show the best I can. I gave it everything I had. I left the Olympic ice knowing I gave it my very best."
However it was Valieva who was the focus of the world's attention and her tense body language with coach Eteri Tutberidze immediately after her skate indicated a level of trust had dissipated.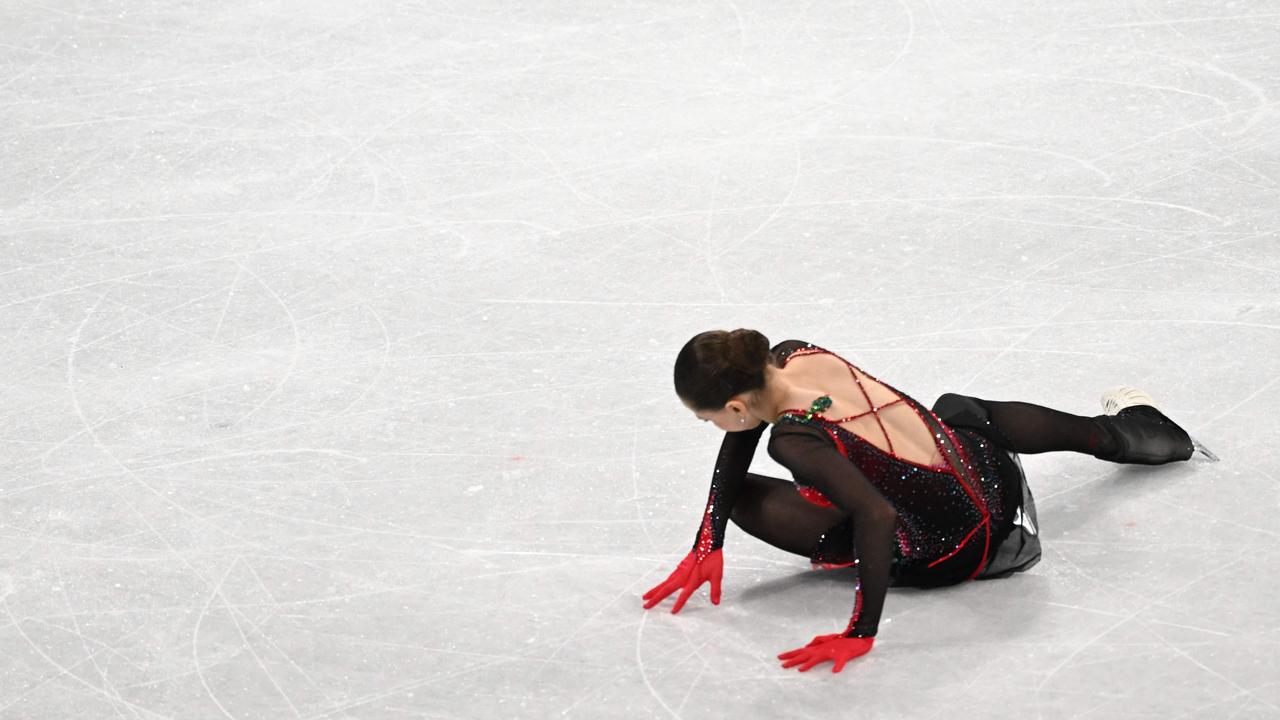 Russia's Kamila Valieva stumbled out of gold medal contention. Picture: AFP
Tutberidze has guided Russia's young stars with particularly harsh training methods and none of her charges have backed up for subsequent Olympic performances.
Valieva had thrust her hand in a mock attempt of triumph at the end of the four minute performance but then dissolved into tears as she clutched her teddy bear bag. The Olympics is over for her, perhaps her entire skating career is finished too.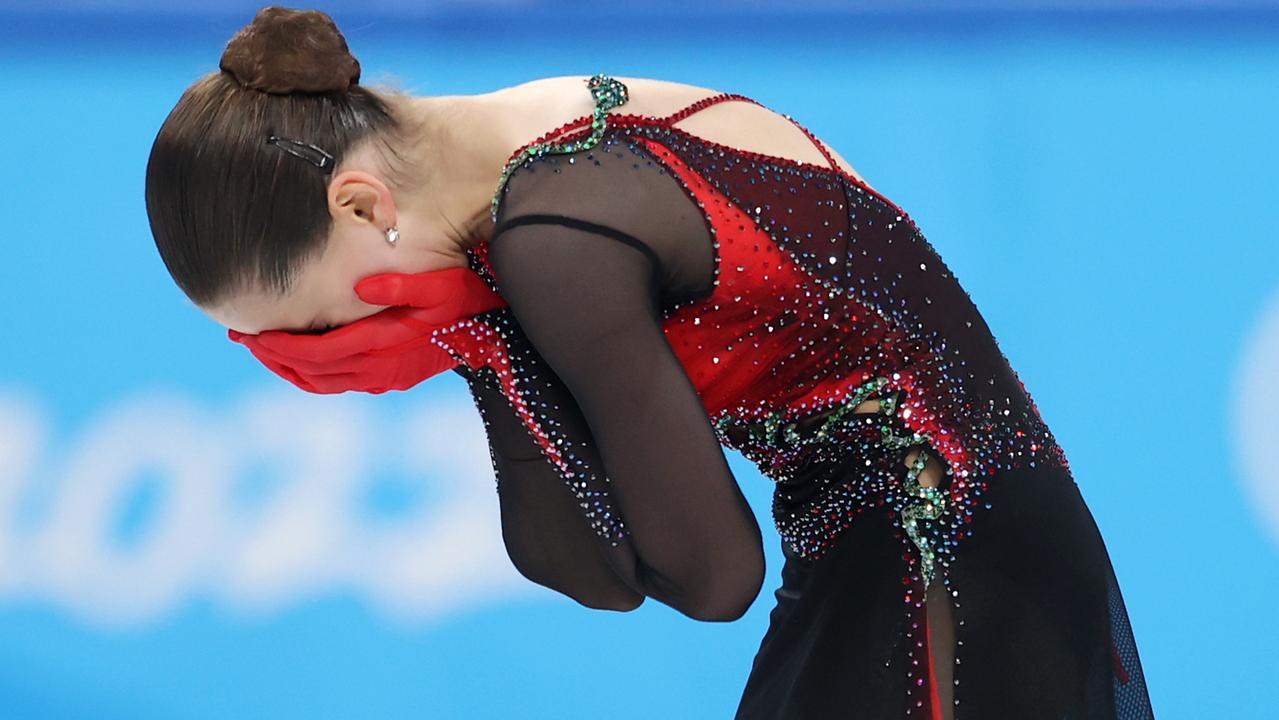 Kamila Valieva reacts after the women's figure skating final. Picture: Getty Images
World Anti Doping Agency officials are now scrutinising Valieva's entire entourage, including the role of a doctor Filipp Shvetsky who is part of the skating medical team, but who was blamed for a spate of banned intravenous blood infusions carried out on Russian rowers around 15 years ago.
Certainly the investigations will focus on what has been going on behind the closed doors of the Russian skating team and the Russian Olympic Committee.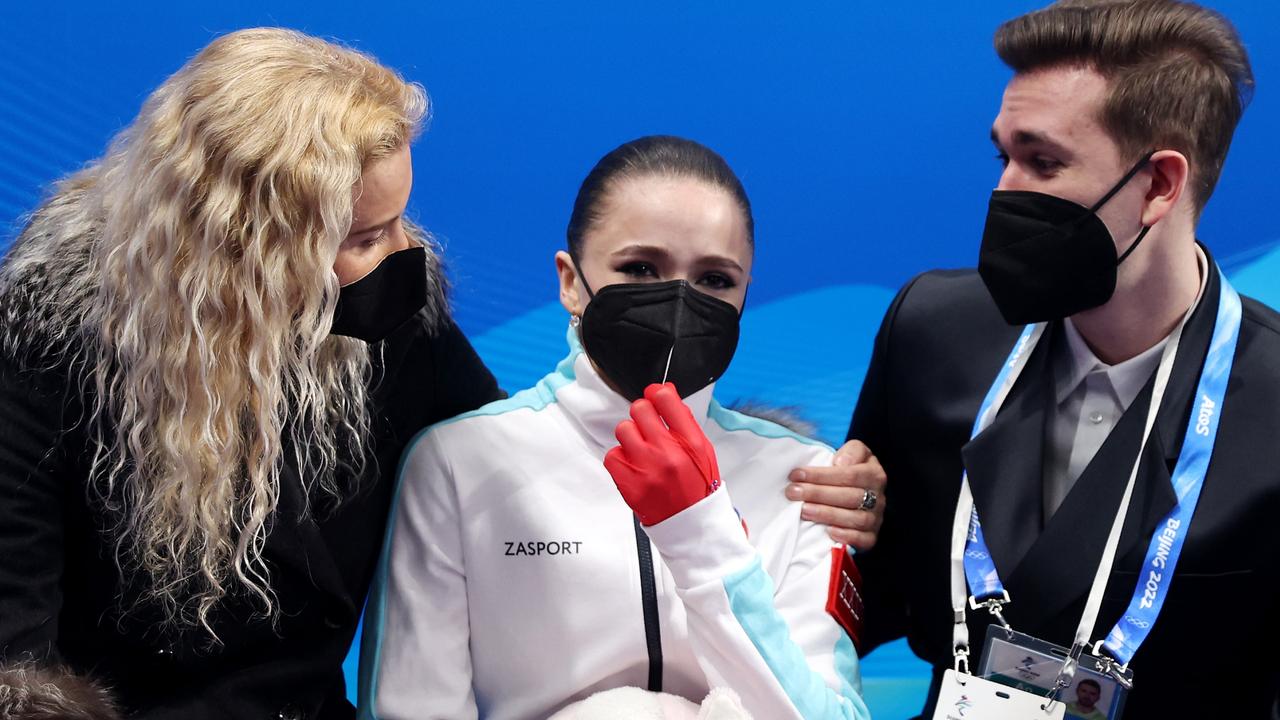 Kamila Valieva reacts to her score with choreographer Daniil Gleikhengauz (R) and coach Eteri Tutberidze. Picture: Getty Images
For the first time in living memory the president of the IOC was missing from this biggest moment of the Games. Thomas Bach apparently had other pressing events to attend.
After the conclusion of the event Valieva was left in the athletes' warm-down room sobbing uncontrollably while her competitors received their presentation of the Olympic mascot.
Valieva has claimed that the banned heart medication that she tested positive for trimetazidine was a mistake through cross contamination of medication her grandfather had been taking. But the World Anti-Doping Agency released Valieva's two other substances, L-carnitine and Hypoxen which are both legal.
US Anti Doping chief executive Travis Tygart told US reporters when hypoxen, which boosts blood flow to the heart, and L-carnitine are combined with trimetazidine, it is "an indication that something more serious is going on."
"You use all of that to increase performance," Tygart said, adding, "It totally undermines the credibility" of Valieva's defence.
Originally published as Winter Olympics 2022: Where to next for Kamila Valieva figure skating doping probe?