Winter Olympics: Beijing has used 290 snow cannons to prepare its mountains for this year's Games
It has taken more than two months and 49 million gallons of water to ensure the slopes at the Winter Games are ready for competition.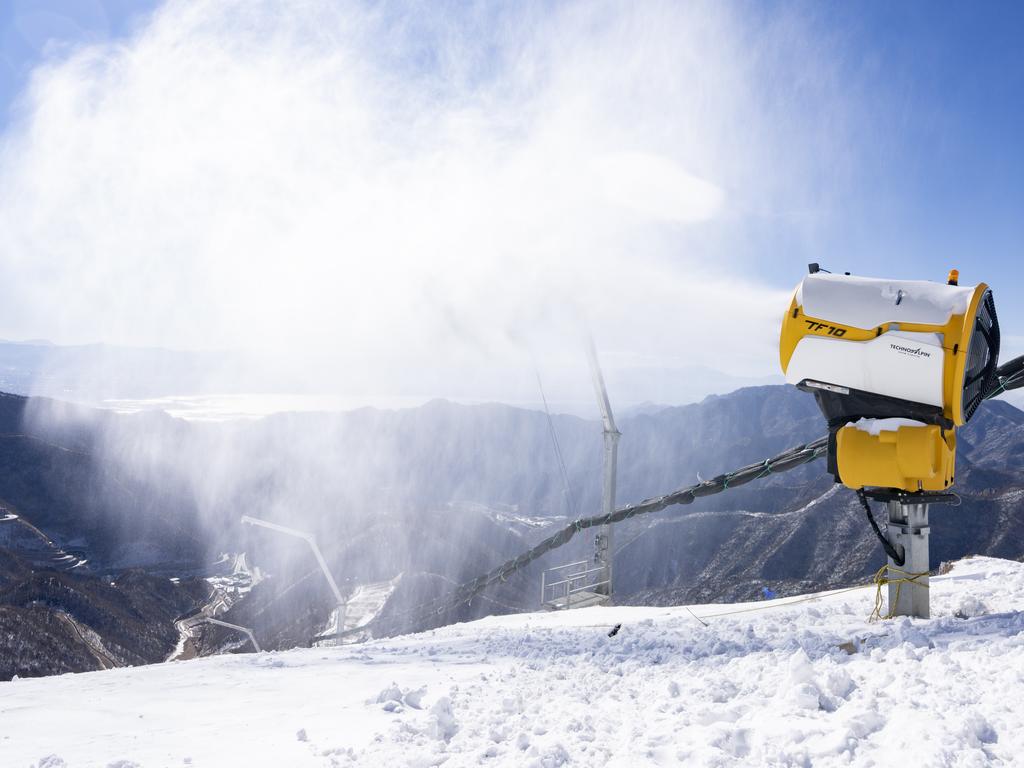 Roughly 290 snow cannons are being used to prepare Beijing for the Winter Olympics. Picture: VCG via Getty Images.
In less than two weeks Yanqing, 75 kilometres northwest of Beijing, will host the first alpine event of the 2022 Winter Olympics, the men's downhill. Long considered to be one of the jewels in the crown of the Games, a single-run shoot-out where racers can exceed 85mph, this year it will take place on slopes that are often parched in winter.
At Wengen, Switzerland — home to the Lauberhorn races, one of the biggest events in alpine skiing's calendar — the average weekly snowfall in January is 31cm, in December 23cm and February 27cm. In Yanqing, you can expect between 2 and 3cm a month during the same period. At Zhangjiakou, the mountainous city 190km northwest of Beijing, which hosts the jump events, the snowfall is greater — about 100cm for winter — but still insufficient to meet the thickness requirement for Olympic venues.
And so in Zhangjiakou and Yanqing, snow-making machines from TechnoAlpin, an Italian company, dot the slopes. Since November these bright yellow snow guns and cannons have been pumping manufactured snow on to pistes, for events from downhill to slopestyle to ski jumping. The machines work by firing tiny ice particles into the air at the same time as a fine mist of water vapour. Launched up to 60 metres by a fan, the water and ice stick and freeze and fall as snow. The work was expected to be completed by mid-January, about two weeks before the Olympic cauldron will be ignited at the National Stadium in the nation's capital.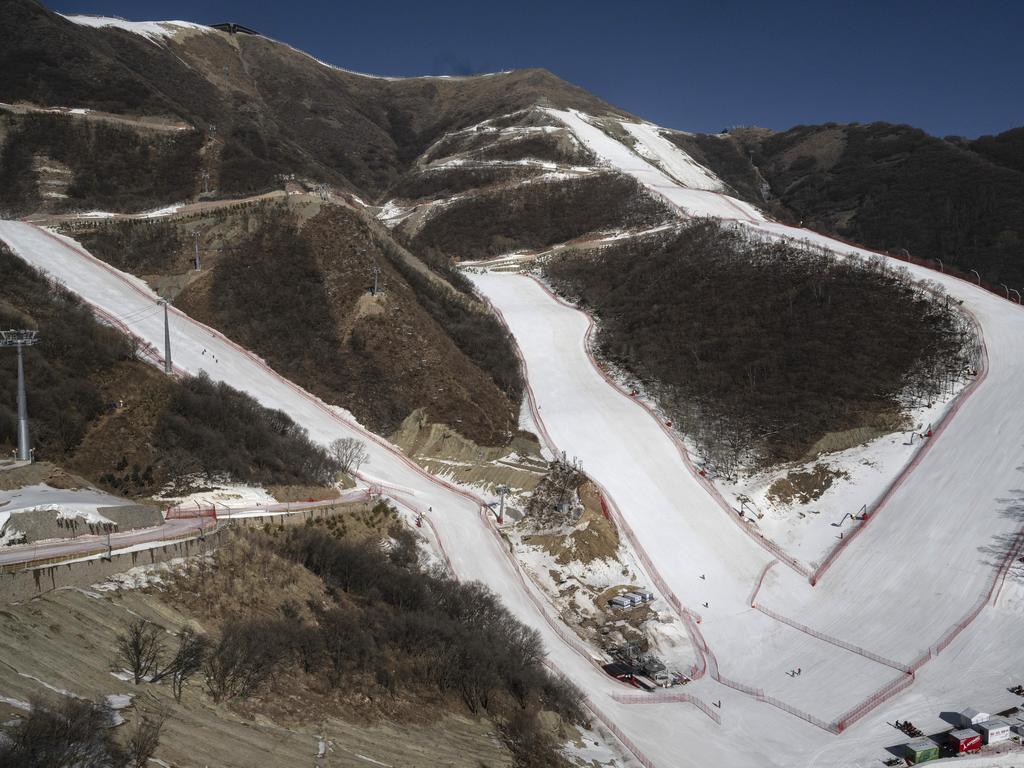 China's National Alpine Ski Center, where alpine events for the Winter Olympics will be held, pictured on February 5, 2021. Picture: Kevin Frayer/Getty Images.
The practice has become common in recent Games, including those in Vancouver, Sochi and PyeongChang. And yet, the demand for water in China is huge. Between Beijing and Zhangjiakou, this year's Winter Games will need 49 million gallons of water, enough to fill 74 Olympic swimming pools. TechnoAlpin is using about 290 snow cannons — nearly double the number in use at Wengen, which covers an area four times larger.
Chinese organisers say that snow-making is necessary not only to generate enough snow but also to meet specific conditions — artificially produced snow is thought to be faster and grippier — which Mother Nature cannot be relied upon to provide. There are certain demands on the depth, density and hardness of snow, not only to ensure top performances but also to ensure fairness to all athletes, organisers say.
"In order to ensure that competitors can reach a top speed of 130-140 kilometres per hour, the International Ski Federation has strict requirements on the hardness of the slopes, so snow-making is the most critical part," Wu Gaosheng, the operation manager of the National Alpine Ski Centre in the Beijing suburb of Yanqing, told the Global Times, a party-run newspaper.
The man-made snow is less fluffy, less complex in form and can be laid and groomed to meet the specific requirements. Lv Shengming, the sales and marketing director of TechnoAlpin in China, said that snow-making involves no use of chemicals. "It's a physical transformation," he said, explaining that snow is created when water droplets — upon contact with compressed air and sub-zero air — crystallise.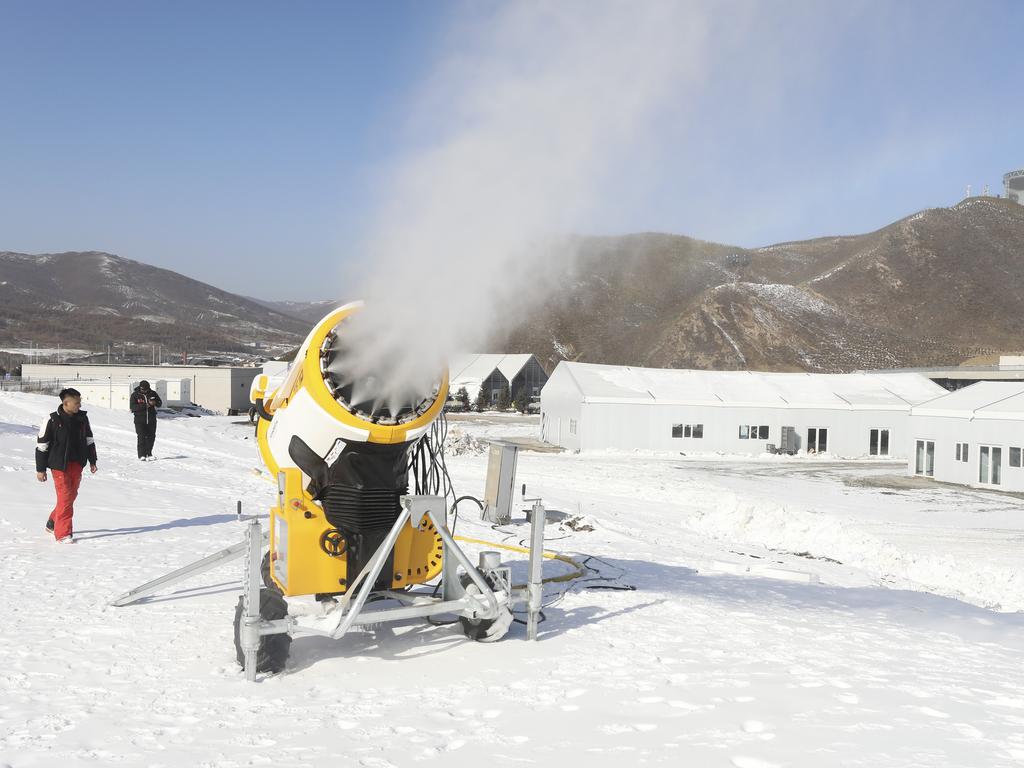 Snow-making machines have been in use in Zhangjiakou since November. Picture: Wu Diansen/VCG via Getty Images.
"There are different requirements for slopes, turns, starting areas and landing zones," Lv told The Times.
Given the scale of the snow-making operation and the natural sparsity in Yanqing, there has been some scepticism about the quality of events such as the downhill. But Bernhard Russi, who has designed nine of the past ten Olympic downhill courses, including for Beijing, dismissed that concern.
"I would say it is a surprisingly good [course], good in the sense it is going to be challenging," Russi said this month. "It is going to be a much steeper downhill than everybody was thinking.
"Everybody thought Beijing is flat and Beijing has no mountains and that's not true. It really has everything. It has steep parts, long turns, quick turns, it has some speed sections and for me personally I like that we have three, four real big, big jumps. According to the terrain, according to the mountain, according to the work we have done, this could be a very good downhill, a very demanding downhill."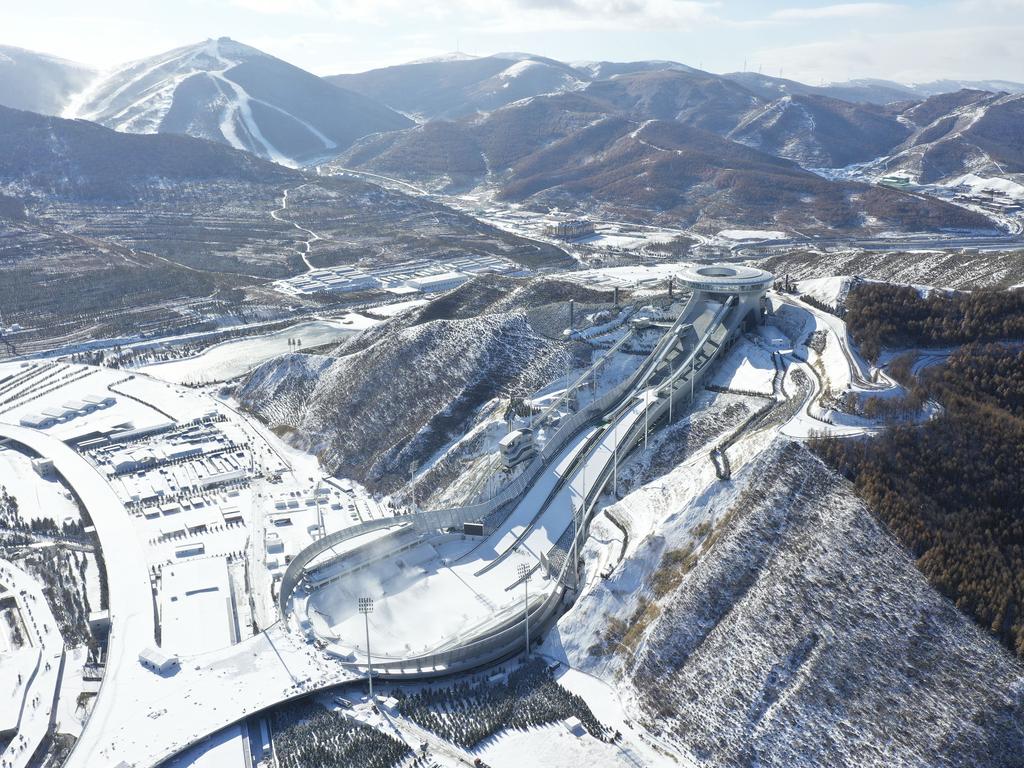 The National Ski Jumping Center, nicknamed 'Snow Ruyi'. Picture: Wu Diansen/VCG via Getty Images.
Beyond the sporting fears, there is the ecological cost. According to China Water Risk, Zhangjiakou has a water resource per capita that is a fifth of the national average, but Chinese organisers have made environmental protection a top priority for the Games and say that their massive snow-making scheme will not harm the area, either by depriving residents of water or in damaging the non-human surroundings. "We are adhering to the concept of sustainability," said Li Zhenlong, facility manager at the national cross-country skiing centre in Zhangjiakou. "We've collected surface water for snow-making, and we don't need to tap any underground water. It has no impact on the environment."
At the jumping centre in Zhangjiakou, Jia Maoting, a general manager for the Games' construction projects, said the 300,000 tonnes of water the site needs for snow-making comes from surface water that was collected in the summer and stored in a cistern. "There's no water from the water plant," Jia said.
In Yanqing, the Beijing suburb that will host the sliding sports and alpine skiing, the water usage by the games will account for 1.6 per cent of the district's total water consumption. But in Zhangjiakou, that figure is 9.8 per cent. And although the authorities insist snow-making will not affect the daily water needs by local residents, a water transfer project has diverted more than 5 million cubic metres of water to the area to minimise the need to tap the underground water.
– The Times