Winter Olympics: Britt Cox is targeting a medal on the other side of the mountain ridge that threatened her career
On one side of the ridge, Britt Cox suffered a painful and terrifying crash. Today, on the other side, she targets a medal, writes LACHLAN MCKIRDY.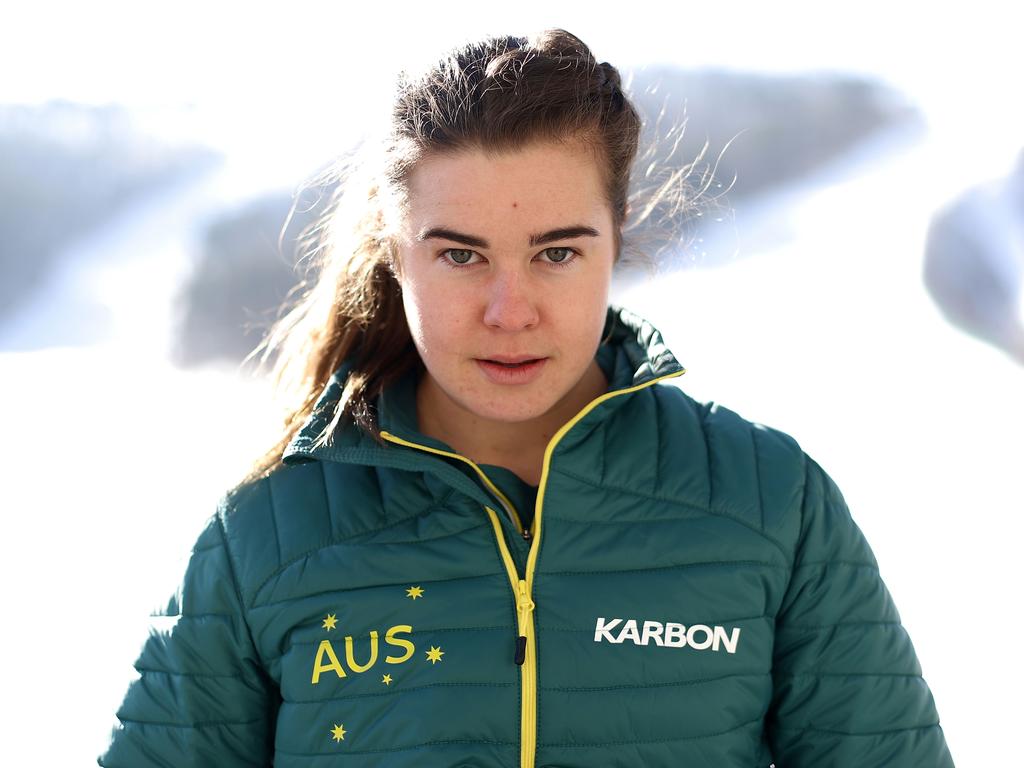 Britt Cox is ready to finally make her Olympic mark in Beijing. Picture: Ryan Pierse/Getty Images
To the northwest of Beijing stands a mountain ridge that has figured prominently in the career of Britt Cox. On the one side, the Genting Snow Park where Cox will today push for an Olympic medal and, in so doing, seek to ease the disappointment of the 2018 Games, which she entered as favourite but finished without a medal.
On the other side of the ridge, the Thaiwoo side where Cox suffered one of her greatest disappointments – one that threatened to end her career.
It was 2019 and Cox was at the peak of her powers and high on motivation after a fifth-placed finish in PyeongChang. Having secured a bronze medal at the opening World Cup competition of the season in Finland, Cox travelled to China hoping to add to her collection.
Instead, disaster struck. After finishing seventh in the moguls, Cox mistimed a jump on day two in the dual moguls event. She fell to the ground and slid down the mountain, her head hitting each mogul on the way to the bottom.
"I don't remember any of it, I was unconscious and that was a big, big recovery and was the biggest injury I've ever had in the sport," Cox says.
The impact of the collision resulted in a broken collarbone and six broken ribs. She was out of action for almost a year before returning to the World Cup circuit in December 2020.
In between were multiple surgeries, months of rehabilitation and the genuine question of whether she wanted to ski again. That thought feels like ancient history today in Genting as she pushes for Olympic glory barely 30 minutes away from the scene of her crash in Thaiwoo.
"I've got full movement back in my shoulder and I can ski the way that I want to," she says as she enters her fourth Winter Olympics. "I'm grateful that I'm still here and healthy and strong and can do what I love. That's something I remind myself of each day on the snow."
*****
Cox has become an integral part of the Australian Winter Olympics team over a period spanning more than a decade. Of course, things were different at the start. When she boarded the plane to Vancouver in 2010, she admits she didn't quite realise the history she was making at the time.
Only 15, Cox became the youngest Australian Winter Olympian in 50 years.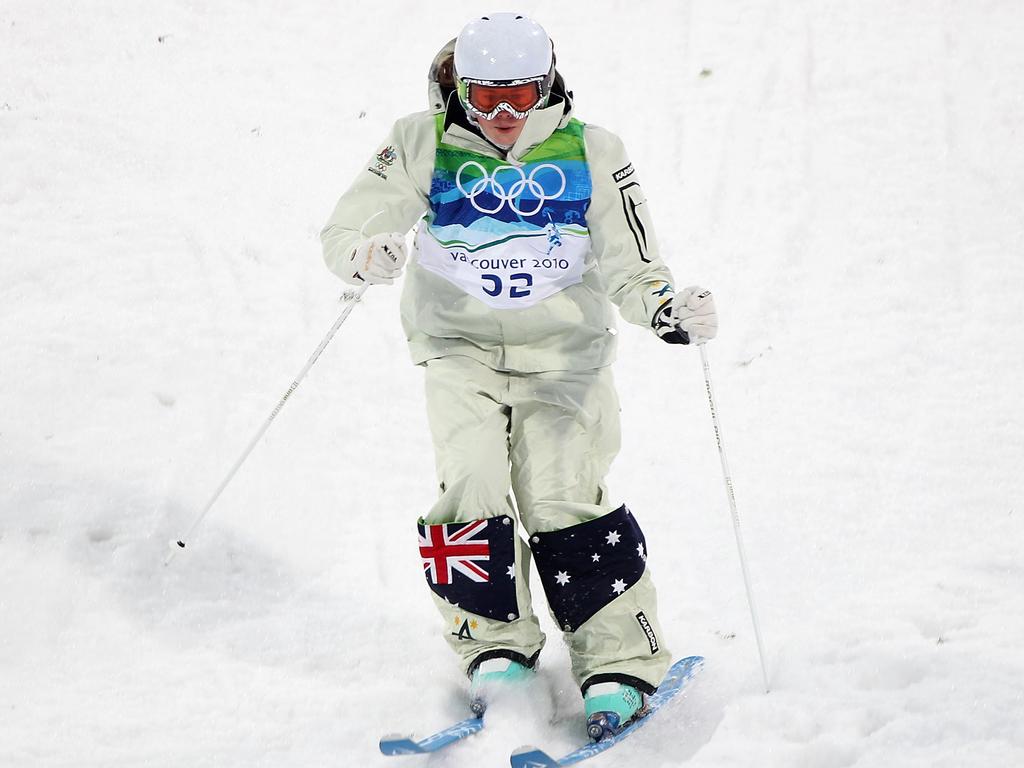 Cox surprised herself by qualifying for Vancouver in 2010 but it was just the start of an incredible ride to come. Picture: Streeter Lecka/Getty Images
"I'm there alongside my absolute idols and heroes of freestyle skiing and mogul skiing," she remembers of Vancouver. "Not only was it amazing to be there and see them and talk to them and be training on the same course as them, I actually got an opportunity to have an Olympic experience as well."
Competing was only one of her concerns at the time. High school study was another.
"I was super young so I definitely wasn't going out partying with the other athletes after I'd finished competing," she says. "I was still doing my high school homework in the Olympic village."
Buoyed by the confidence of a 23rd placed-finish in Vancouver, the Victorian made leaps and bounds in her career. In 2012 in Deer Valley, she became the first Australian woman to medal in a moguls event at a World Cup. Then, at the Sochi Olympics, Cox finished in fifth place.
"I was able to put down some of the best skiing I've ever done in competition in the final there," she recalls.
When Cox (R) got on the podium in Deer Valley in 2012, it was a monumental moment for Australian mogul skiing. Picture: Matthew Stockman/Getty Images
A breakthrough World Cup victory came in Ruka in 2016. She added seven more World Cup golds and a World Championship title to her name before arriving in PyeongChang for the 2018 Olympics. That meant expectation. Cox knew she was the favourite heading into South Korea and to this day holds complicated feelings about her fifth-placed finish.
"Going into those Games, it was a different experience for PyeongChang going in as world champion," Cox says. "I put more expectation on myself because I always set the bar high for myself.
"But I'm also proud I did put myself in that position because it's where I wanted to be, I wanted to reach that level of my sport where I was the one to beat and I'm really proud I was able to be in that position for an Olympic Games."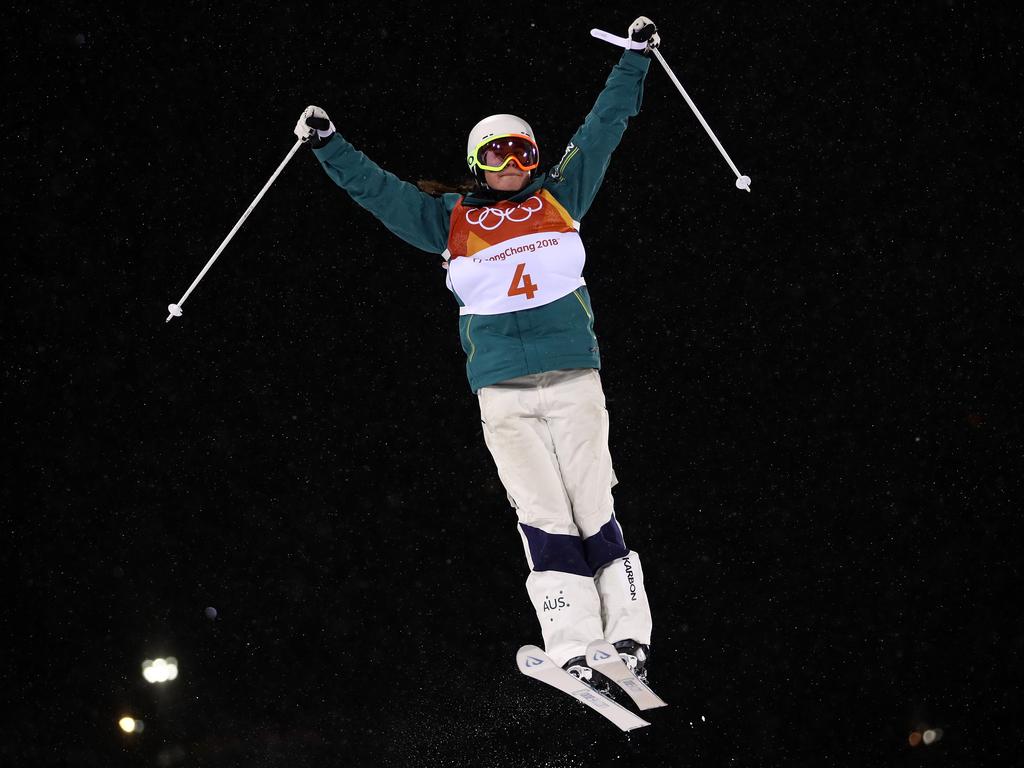 There was plenty of pressure on Cox going into PyeongChang but she wouldn't have it any other way. Picture: Clive Mason/Getty Images
*****
Cox's teammate, Jakara Anthony, is the heavy favourite for the event in Beijing today, and it's easy to see why. The 23-year-old produced a flawless run in qualification to finish first by over two and a half points from her nearest rival.
But Cox is by no means ruling herself out. Improvement is the main goal coming into her fourth Olympic Games after a harrowing few years. These Olympics mark Cox's first major competition in China since the crash in Thaiwoo.
"I made a big mistake on the top jump in PyeongChang so I feel like there are things I can improve on," she says. "I've started doing some different tricks and that's motivated me over the last few years in the sport and something I hope to be able to do at the Games. There's a lot of determination and fire to put down a run I'm proud of."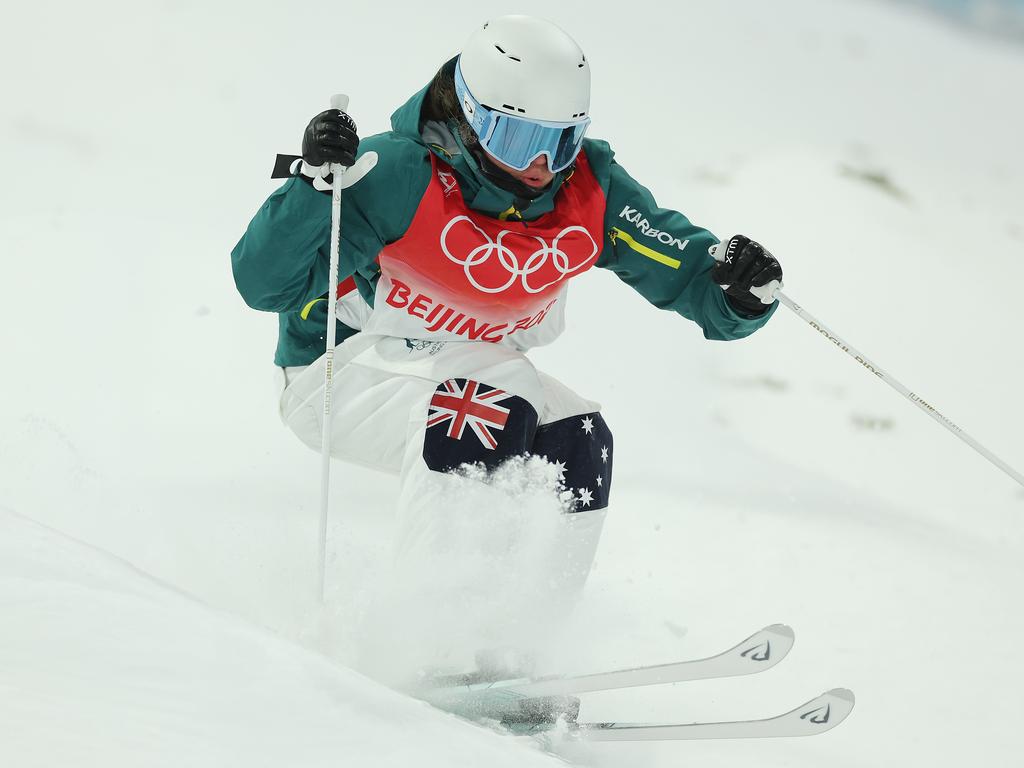 Cox finished ninth in the first qualification round to book her place in the finals. Picture: Patrick Smith/Getty Images
Life off the slopes has also begun to influence Cox's skiing style. The 27-year-old found a passion for yoga, particularly throughout her injury recovery, and it has since become a critical part of her routine every time she is about to fly down a mountain.
The Olympic finals will be no different.
Enter the holding tent?
Take a deep breath.
Three competitors left before Cox starts?
Time to start a dynamic warm-up – particularly important in -15 degree conditions.
With one rider left, the skis go on and visualising the run begins: fast out of the gate, balanced over the moguls, graceful through the air.
Cox still has some tricks up her sleeves for the judges in Beijing. Picture: Al Bello/Getty Images
Meditation techniques are employed as she approaches the start line.
"I want to become present and be right there in the moment," she says.
Then, as she prepares to launch down the mountain, comes the most important step of all.
"I tap my feet and then I'm ready to go."
In a sport where speed is one of the keys to success, slowing down everything around her – and shutting out thoughts of PyeongChang and Thaiwoo – will be Cox's goal.