Winter Olympics: Nathan Chen's spectacular Elton John routine wins figure skating gold for Team USA in Beijing
Four years after stumbling on the biggest stage, the American delivered a rapturous free program and enters the conversation as the greatest skater of his generation.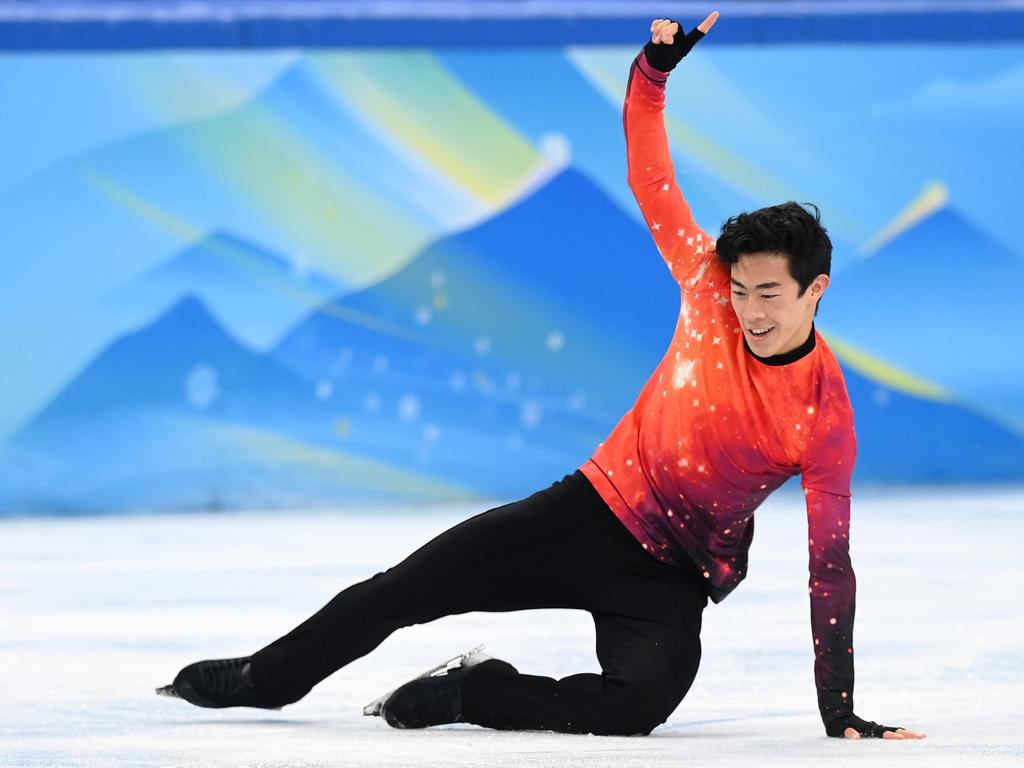 Nathan Chen delivered a rapturous free program with five quadruple jumps. Picture: Justin Setterfield/Getty Images
He flew across the ice, floated in the air, challenged the laws of physics with his jumps and when the music finally stopped after four minutes of magnificent skating, Nathan Chen didn't need to look at the scores to know: He was the Olympic champion.
Chen delivered a rapturous free program with five quadruple jumps here on Thursday to win the men's individual gold medal for the United States, avenging his devastatingly uneven performance at the Olympics four years ago in the grandest way and reigniting a conversation about whether he's the greatest figure skater of his generation.
After he stared down the pressure with an impeccable performance, when the judging panel officially awarded him a season's best score that destroyed the competition, Chen appeared to beam underneath his N95 mask.
Right behind Chen on the leaderboard were three Japanese skaters. The teenager Yuma Kagiyama took silver, followed by bronze medallist Shoma Uno. Yuzuru Hanyu, the two-time Olympic champion, placed fourth on a day when he nearly hit a quadruple axel for the first time in history.
Chen joins a long roster of American men to win figure-skating gold, including Dick Button (1948 and 1952), Scott Hamilton (1984), Brian Boitano (1988) and Evan Lysacek (2010), the only U.S. champion during the 22-year-old Chen's lifetime.
But the man synonymous with quadruple jumps may be the most dazzling of them all for his combination of artistic grace with incredible athleticism that pushes against the limits of his sport.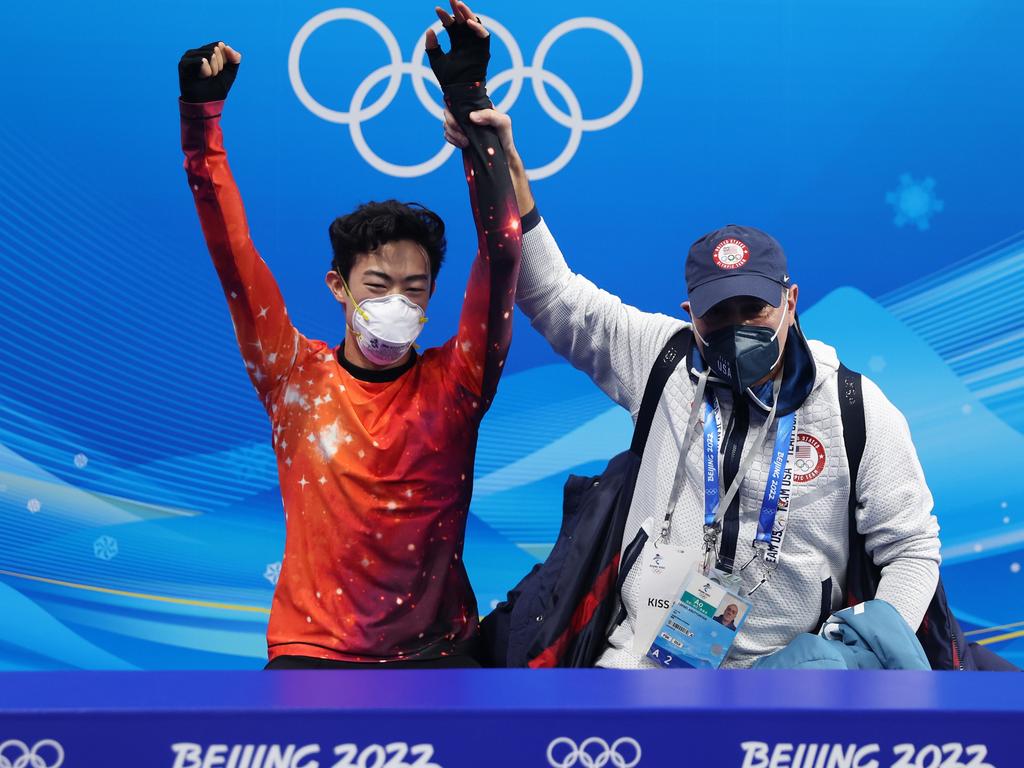 Nathan Chen joins a long roster of American men to win figure-skating gold. Picture: Matthew Stockman/Getty Images
Earlier on Thursday, Chloe Kim blew away the women's halfpipe field and successfully defended the gold medal she won in 2018. She all but sealed her win with her first run down the pipe, in which she started a five-trick run involving two 1080s — three full revolutions — that finished with a double fist pump. The judges awarded her a score of 94.00 points, more than eight points clear of the field.
The final standings ended up slightly closer, with Spain's Queralt Castellet scoring 90.25 to take silver and Sena Tomita of Japan earning bronze with a 88.25-point run.
Chen found himself in first place after his sublime performance on Tuesday that was as much a victory over his own competitive demons as anything. The short program pulled Chen down four years ago in PyeongChang. It propelled him in Beijing.
Chen's primary competition here was supposed to be Yuzuru Hanyu, the Japanese legend who won in 2014 and 2018. But if every Olympics crowns a gold medallist, the resplendent Hanyu turned these Winter Games into his own glorified laboratory experiment, a chance to attempt something that nobody had ever done before: land a quadruple axel.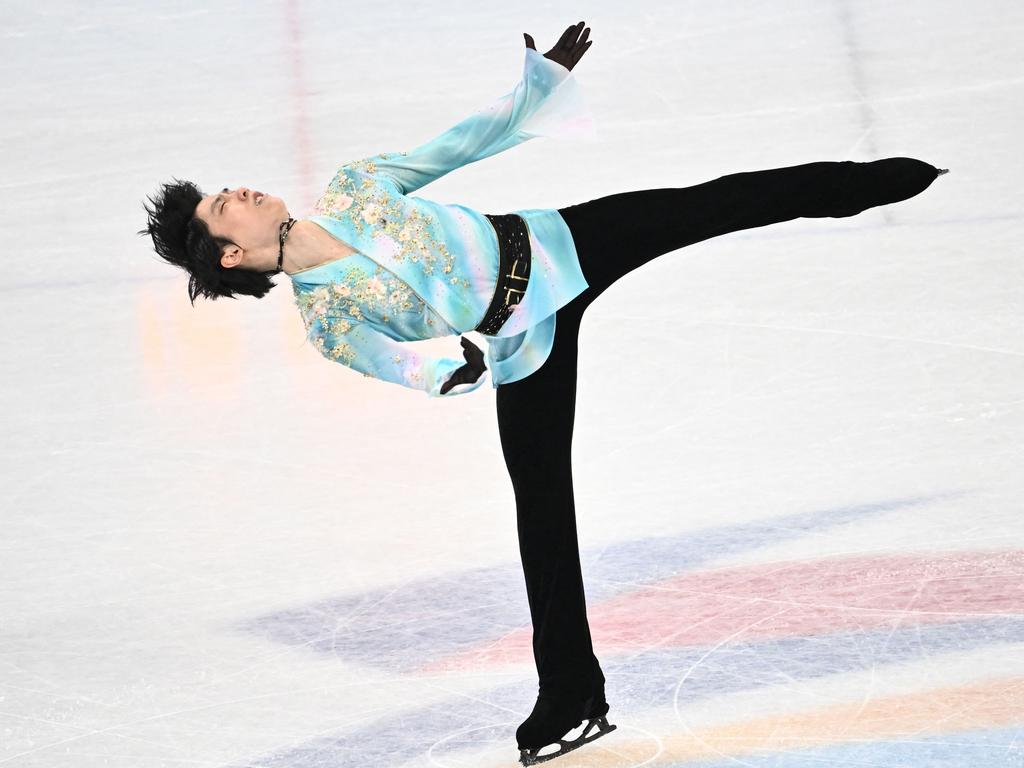 Yuzuru Hanyu, the gold medallist in 2014 and 2018, finished just off of the medal stand in fourth place. Picture: Anne-Christine Poujoulat/AFP
Hanyu's audacious obsession with the quad axel made him seem more interested at times in pulling off the jump of figure skating's dreams at the Olympics than beating the rest of the field for a third consecutive Olympic title. And he was in the running to pull it off. But his shot at history turned into an under-rotated fall — so close that Japanese reporters buried their heads in their hands and still not close enough.
But when Hanyu bungled his first jumps of Tuesday's short program and Thursday's free skate, he essentially removed himself from the top of the podium, meaning Chen's greatest rival had been vanquished roughly an hour before he took the ice. The gold medal was his for the taking.
Chen arrived in Beijing as the three-time reigning world champion determined to not let anyone or anything get in his way of gold — not his Japanese rivals, not his own nerves and especially not a virus. He's been so maniacal about wearing a tightly sealed N95 mask in practice, in press conferences and even in warm-ups that the only time he bares his face in public is when he steps on the ice to perform.
He had a round, shiny, metallic reason for playing it safe: It quickly became clear that Covid was one of two things that could stop Chen from winning.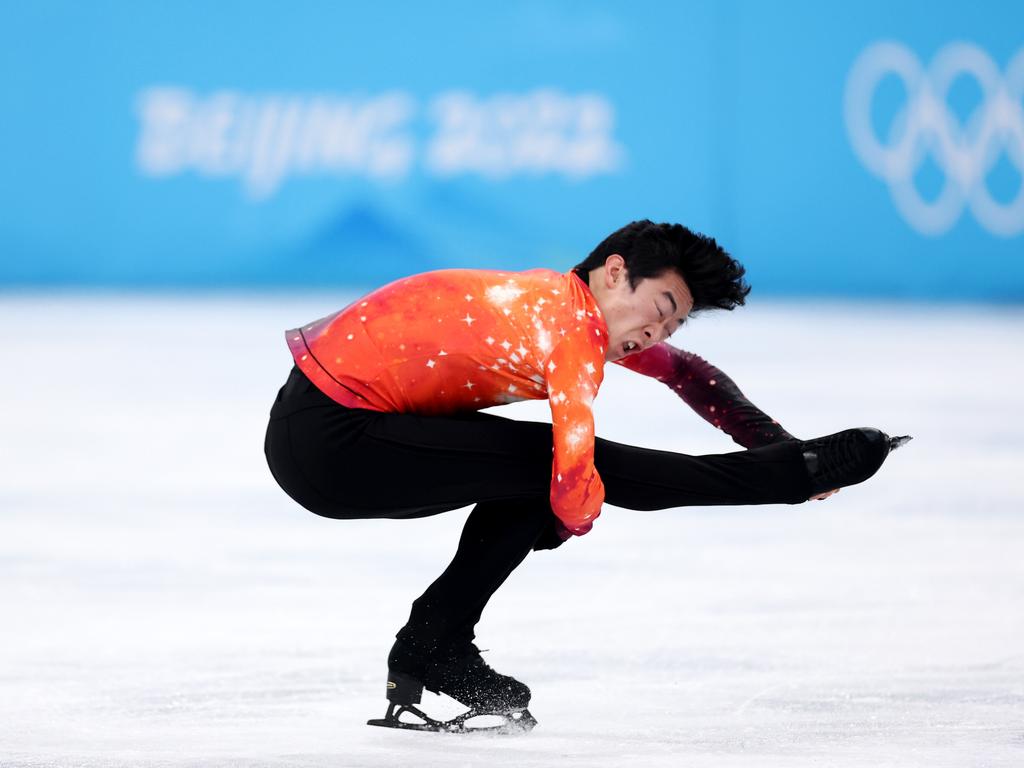 Chen avenged his devastatingly uneven performance at the Olympics four years ago by earning top scores in both the short and free skating programs in Beijing. Picture: Matthew Stockman/Getty Images
The other was himself. Chen wasn't battling Hanyu, Uno or Kagiyama so much as he was competing against his own past. He was hailed as the next big thing in figure skating before the Olympics four years ago in PyeongChang, where a disastrous short program left him in 17th place for the free skate, crushed his medal dreams and could have permanently scarred him. Even after he ripped off a winning streak that spanned more than three years, there were always going to be questions about how he would perform in the one big event every fourth year.
But a triumphant performance in the short program segment of the team event last Friday was the first of his many cathartic moments here, and people around the skater noticed an immediate change in his demeanour. Nathan Chen looked like Nathan Chen, which was a problem for everybody not named Nathan Chen.
The next opportunity for redemption was Tuesday's short program, the event that made him stumble four years ago. This time he shined. Chen drilled his quadruple flip, triple axel and quadruple lutz-triple toe loop combination on his way to a world-record score, opening a chasm between his Japanese rivals before Thursday's longer skate in which his technical difficulty typically allows him to extend his lead.
By the time he took the ice as the final skater on Thursday, Chen didn't have to be told the stakes.
Four minutes of Elton John hits later, Nathan Chen's four years of anguish were over. He was golden.
– Wall Street Journal