AFL 2022: All the Adelaide Crows team news ahead of Round 1
Crows coach Matthew Knicks believes this will be a moment that the club looks back on and savours down the track.
Adelaide senior coach Matthew Nicks says Wayne Milera being able to play first AFL game in nearly two years will be a seismic moment on "the journey" the Crows are on.
Milera has played just two games in the last two seasons.
First a persistent foot injury cruelled his 2020 campaign and in pre-season last year he ruptured his patella tendon in a trial match.
Nicks announced to the playing group on Wednesday after the Crows main training, in addition to a club debut for Jordan Dawson and AFL debuts for Josh Rachele and Jake Soligo, that Milera would play against Fremantle at Adelaide Oval on Friday.
Nicks said that moment, and Milera playing on Sunday, would be looked back on fondly by the Crows in years to come.
Stream every match of every round of the 2022 Toyota AFL Premiership Season Live & Ad-Break Free In-Play on Kayo. New to Kayo? Try 14-Days Free Now >
Matthew Knicks says the return of Wayne Milera (right) is signficant. Picture: Mark Brake
"He is an outstanding player and outstanding person, it's a good day for our footy club," he said.
"It is an important little dot on the journey, a really important one that we will look back on in a few years time and say that was a moment that was a key moment on the journey that this group is on.
"We are on a mission. It can be a frustrating one at times and there are some dots on that line where you look back and think wow we got through that one really well as a group.
"Those sort of moments on Wednesday, and that's the reason why we did it we wanted the whole group and coaches there to experience it, as a coach to stand there and deliver it there was maybe a little bit more to it than the vision.
"I can swear every now and then when I get emotional but it was a really good time."
Milera's inclusion in the AFL sides comes after he got through a SANFL trial match rather than in the Community Series.
Nicks said the moment was right for him to return and said Milera had handled the challenges that came his way impressively.
"We did yeah but that is going back months, that's not something that we decided this week," he said.
"We were quite confident that this was the week, we just wanted to make sure that we got every box ticked and we go into the game with different plans in place for how we go about it with Junior (Milera).
"It has been a real couple of challenging years for Junior and to his credit he has been professional throughout.
"He's had some moments where I've stood alongside him and you think wow does it get much lower than this and that's purely through not training with the group and early morning rehab, running from cone to cone and getting his body back.
"To his credit he is back there now and I wish him all the best."
Nicks said Dawson had pulled up well from Wednesday and he was excited to see him in Crows colours.
"He pulled up really well, we were always confident but we are also mindful about making statements prior to the main session," he said.
"We announced those guys after the main session and even that as coaches you go fingers crossed hopefully we haven't put the mocker on anyone.
"We want to make sure those guys have pulled up well, but he's an ultimate pro and we are looking at getting it right.
"He will be around the guts, he is a strong addition to us, he brings a really good dynamic to our group, it is really cream on top of what we are working on."
Both sides will go into the clash without key players.
Fremantle will be missing stars Nat Fyfe, Sean Darcy and Matt Taberner against the Crows.
But Nicks said the Crows outs of Taylor Walker, Rory Laird and Paul Seedsman meant his side didn't have any real advantage.
"They are probably three out of our standout players from last year… so we will miss them but it is an opportunity for someone to stand up and take that opportunity," he said.
Boom recruit's surprise role in Crows debut
Adelaide will unleash Jordan Dawson through the midfield against Fremantle in Round 1, with Crows assistant coach Nathan van Berlo saying there are no concerns over the star recruits calf.
After main training on Wednesday at Adelaide Oval Crows senior coach Matthew Nicks told the playing group that Dawson would make his club debut and draftees Josh Rachele and Jake Soligo will play their first AFL games against the Dockers on Sunday.
Nicks also told the playing group that Matt Crouch, Wayne Milera and Mitch Hinge would play against the Dockers after their 2021 campaigns were cruelled by injuries.
Dawson's availability for Round 1 was under a cloud after he missed both of the Crows' pre-season games, first through Covid-19 protocols and then with calf soreness.
Van Berlo said he had seen more than enough from Dawson over the pre-season to know he was ready to go in the Crows midfield.
"He was part of our main group on Monday and at the back end of last week he was almost knocking on the door saying I'm feeling good and back to where I want to be," he said.
"He was always of the mindset that he wanted to main train this week, which we did as well and he moved really well. He has been really confident in his body for a week a week and a half now.
"He will play a variety of roles for us, he has the ability to play on the inside and outside. He probably didn't play as much on the inside when he was in Sydney but he's shown that he has the capability, the size and craft to do it so we will definitely use him at times inside.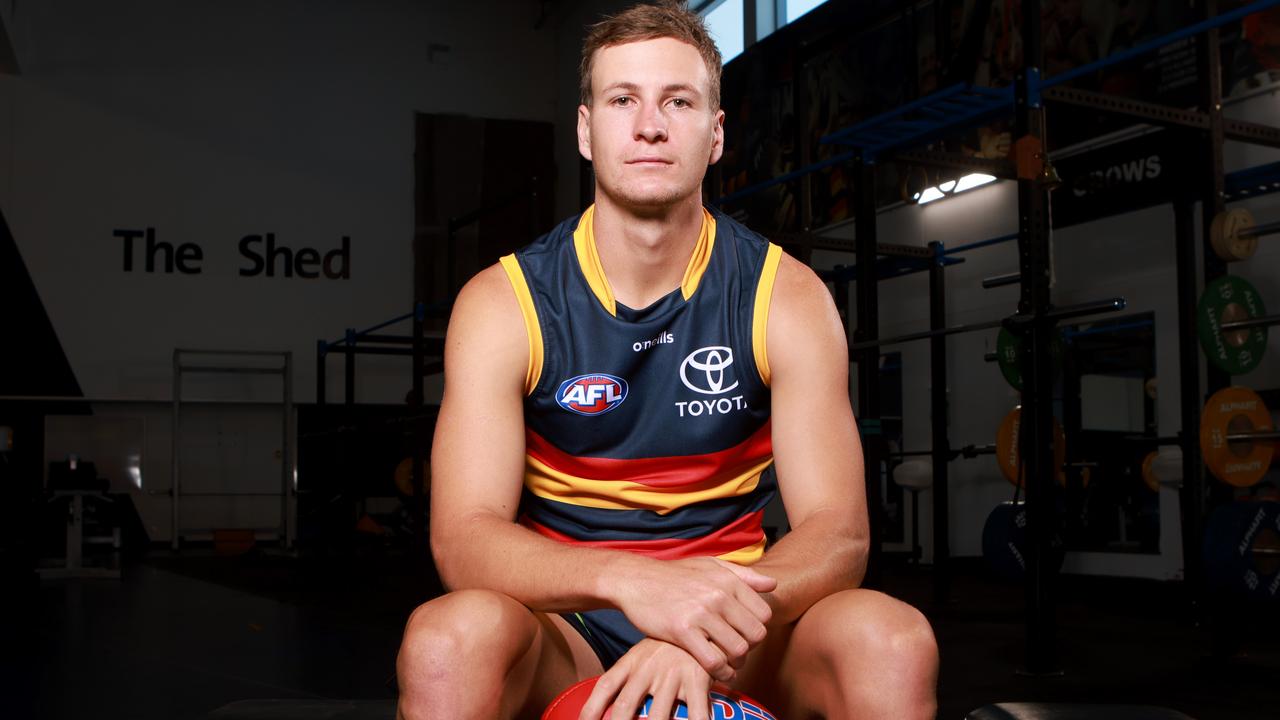 Jordan Dawson will play in the midfield for the Crows in round 1. Picture: Kelly Barnes
"We know what he can do on a wing, behind the ball and we will even use him ahead of the ball. So we will use him here, there and everywhere.
"Some players can be a bit "I don't know about that" but he loves that he can play a variety of roles and fill gaps for us if we need him to.
"But on the weekend I would say he will play predominantly midfield for us."
Rachele was taken at pick 6 by the Crows in the draft, while Soligo went at No. 36.
Van Berlo said he was extremely pleased for the duo.
"Josh was pretty excited, he spoke to his parents and he said that dad got pretty emotional which he was a bit surprised at and Jake just seeing the look on his face there," he said.
"There was a part of Jake to an extent that didn't think he would get drafted compared to Josh and just the grin on Jake's face was priceless and it just takes you back to your first game.
"I asked him what was the biggest crowd you have played in front of and he said the one against Port (in the Community Series) so we are going to have a much bigger crowd here on Sunday with all our fans.
"They are just so excited which is great to see."
Crouch didn't play an AFL game in 2021 but will be back in Adelaide's engine room against the Dockers with reigning Club Champion Rory Laird out with a broken hand.
Milera and Hinge will play off half-back and on a wing.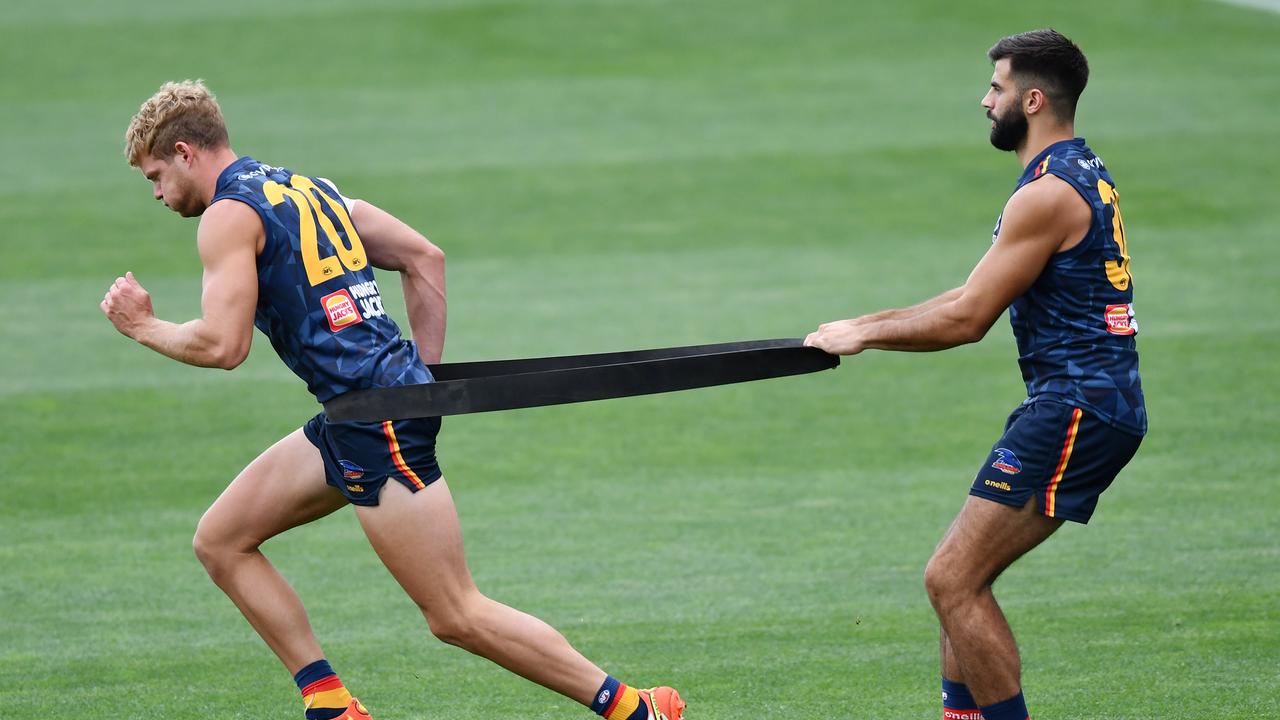 Mitchell Hinge and Wayne Milera tune up for Round 1. Picture Mark Brake
Milera has played just two games in two years after a foot injury and then a torn patella tendon, while Hinge featured in Round 1 last year but dislocated his shoulder three times.
"We are not expecting Junior (Milera) to light the world on fire for us, but we do know when we get the ball in his hands and he is a part of our system he makes us significantly better," van Berlo said.
"So it is really pleasing for him to get through the troubles and injuries that he has had.
"Hingey will play wing and half back, he is that good size where he can mix it around the ball and also play that genuine half back or as a third tall for us."
With Taylor Walker suspended the Crows will likely go with Riley Thilthorpe, Darcy Fogarty and Elliott Himmelberg as their tall forwards.
James Rowe is set to return to the side after being omitted from the Community Series match.
Star recruit on track for Round 1
Boom Adelaide recruit Jordan Dawson is making significant progress towards a Round 1 debut for the Crows.
Dawson didn't feature for the Crows in any of their pre-season matches, first because of Covid-19 protocols and then through calf soreness.
He has not been in full training but trained with the main group on Monday.

The session at West Lakes was a light one with the Crows taking on Fremantle on Sunday at Adelaide Oval.
Dawson got through the running and kicking parts of the session.
The Crows have their main session on Wednesday, which will be key to whether Dawson makes his first appearance in Adelaide colours against the Dockers.
The Crows main session on Wednesday will be key as to whether Dawson plays in Round 1. Picture: Harrison Mielke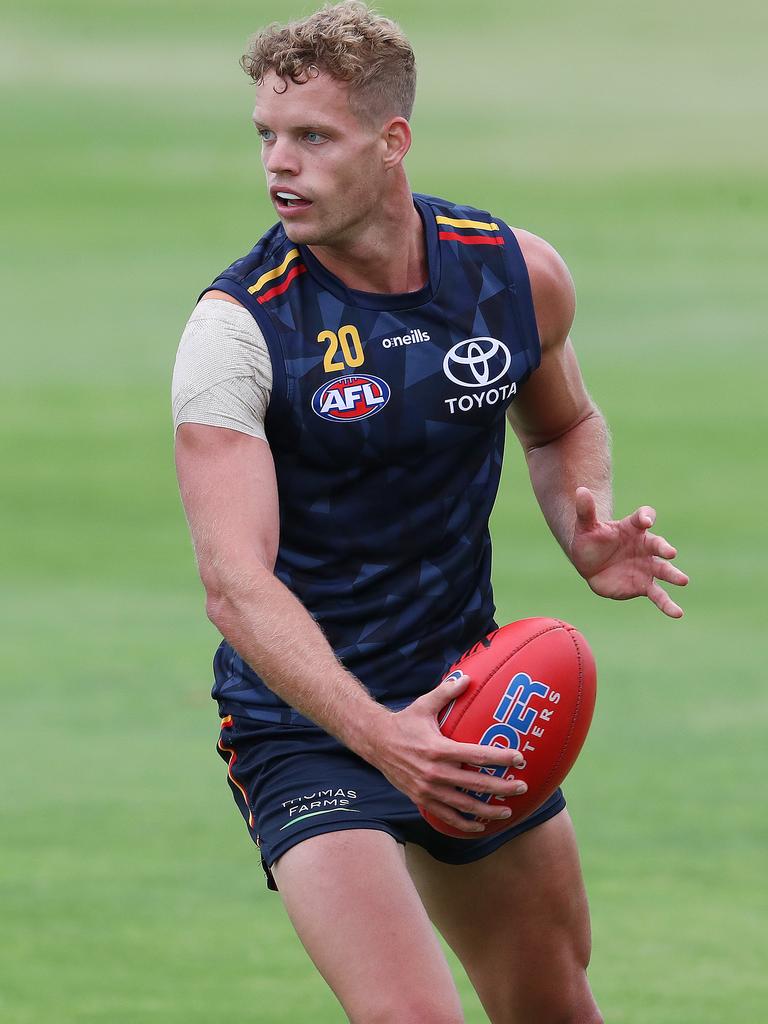 Hinge is back in training. Picture: Sarah Reed
Mitch Hinge was also back training with the main group after he was rested last week following a knock to his AC joint in the shoulder he dislocated on multiple occasions in 2021.
Riley Thilthorpe is also on track for Round 1 after he came down with a non-Covid illness last week.
At Port Adelaide Charlie Dixon is extremely unlikely to take to the field in Round 1 as he recovers from ankle surgery.
Orazio Fantasia is also on the sidelines for the Power, after having knee surgery.
Connor Rozee is in the mix for Brisbane on Saturday night despite having to isolate as a close contact.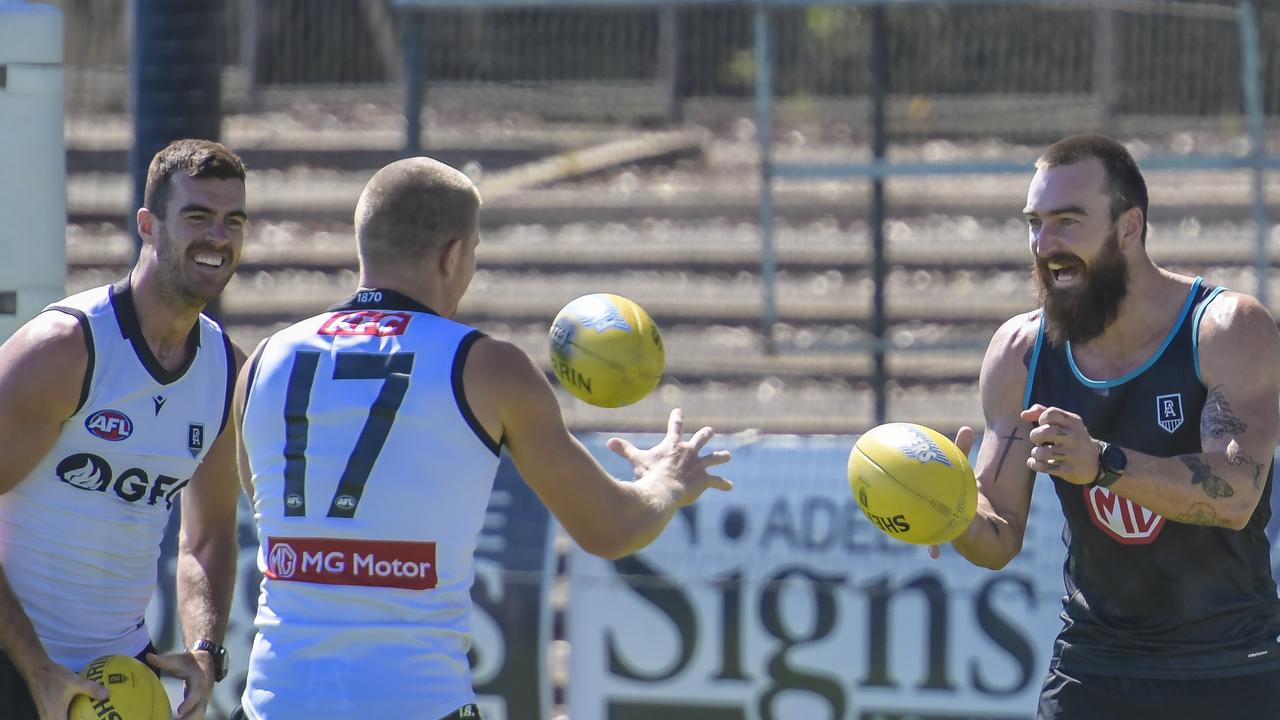 Dixon is unlikely to play. Picture: Roy VanDerVegt
Miles Bergman, who played 21 games for the Power last year, is set to play in a trial match on Saturday after he had to have two surgeries on his shoulder.
With just days to go until the Crows and Power kick off their 2022 campaigns there are still a couple of selection questions still up in the air for both sides.
Here's how the two sides are tracking on the eve of Round 1.
DEBUTS
Both the Crows and Power will have at least one debutant this weekend, and there could be more.
No. 6 draftee Josh Rachele is all but locked in to debut for the Crows against the Dockers on Sunday.
Jake Soligo, pick 36, has played in both the pre-season games for the Crows and has consistently been in the stronger sides during match sim.
With Dixon out Jeremy Finlayson is set to make his debut for the Power against the Lions after he was traded from GWS.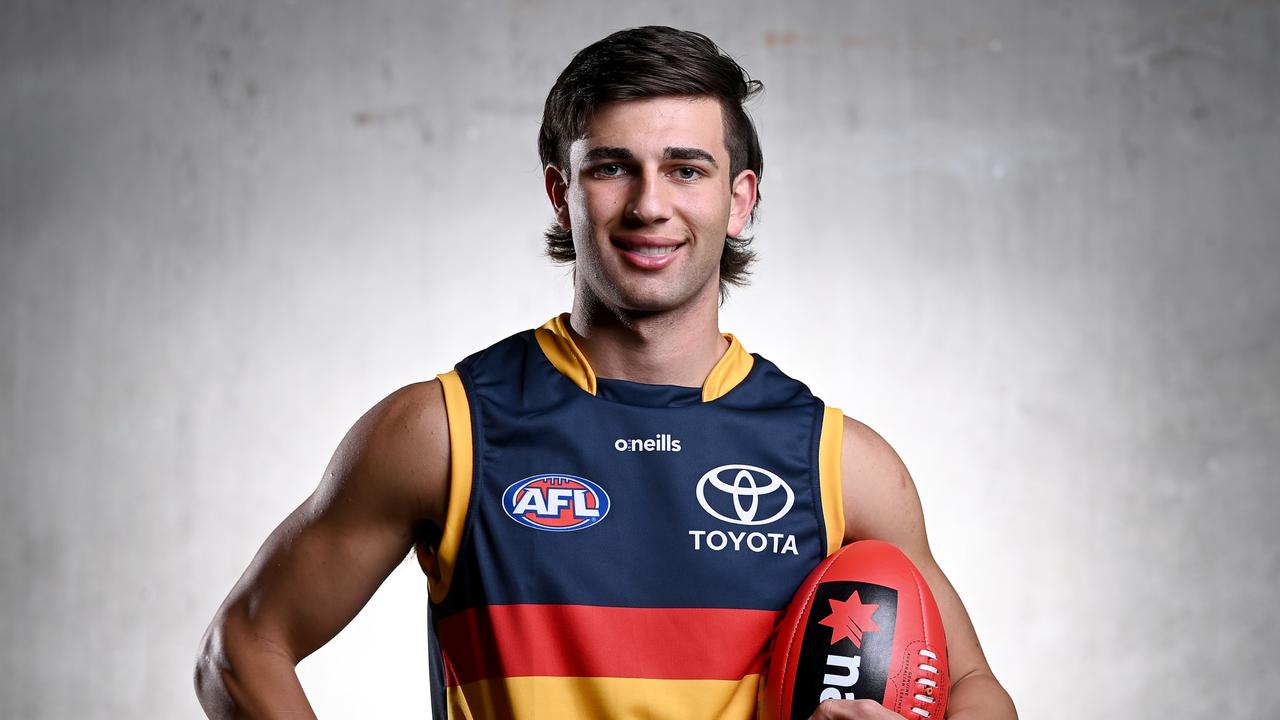 Rachele is set to make his debut in Round 1. Picture: Quinn Rooney/Getty
No. 12 draft pick Josh Sinn and father-son Jackson Mead are both pushing for debuts against the Lions.
Sinn has impressed in the pre-season for the Power but Port coaches are wary that he hasn't played too much footy over the past two years because of the Covid situation in Victoria.
Mead was on the stronger black side during match sim on Saturday, while Sinn was in the white side.
Sam Hayes has pushed for a debut, but it is likely to have to be for Lycett, not alongside the Power's No. 1 ruck.
IN THE MIX
Mid-season draftee Jed McEntee is looming as a bolter for the Power after impressing with his energy and pressure.
He was one of the bright spots for the Power against Gold Coast, and backed it up with 13 possessions and a goal against the Crows.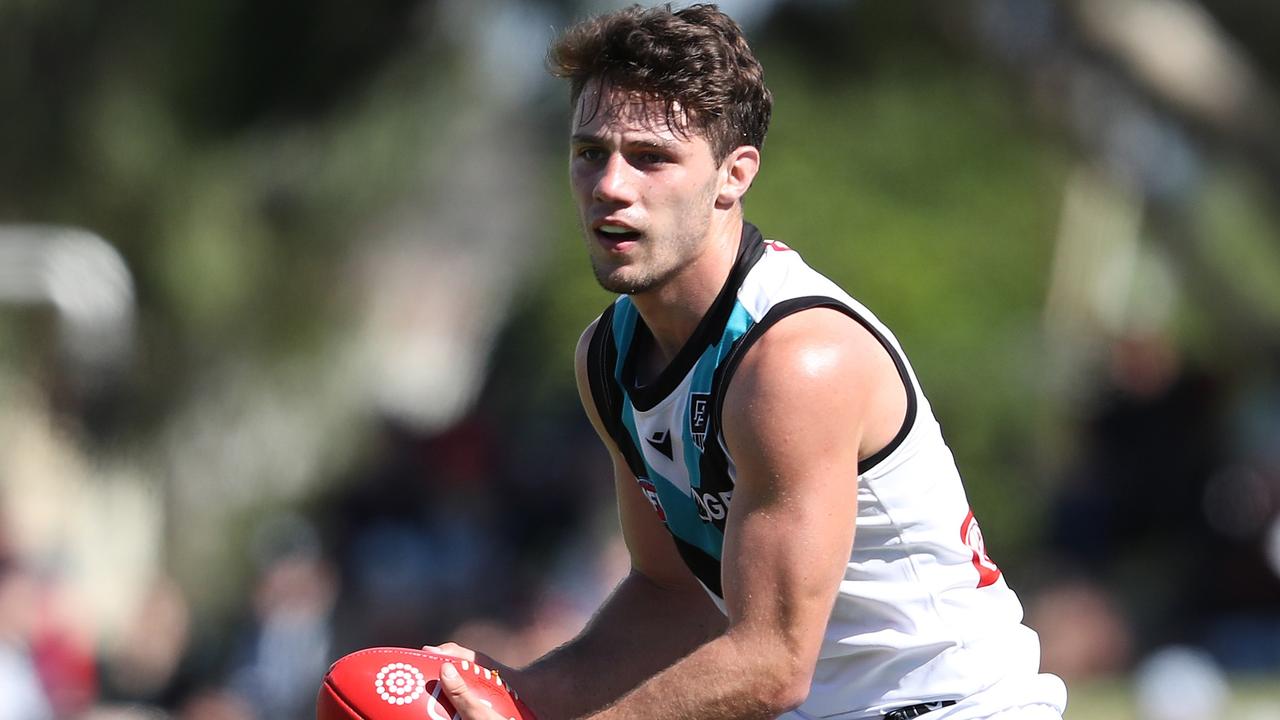 McEntee has worked his way into calculations. (Photo by Sarah Reed/AFL Photos via Getty Images)
Tom Clurey will miss the start of the season after he had to have arthroscopic surgery on his knee following the Crows match.
But while Power coaches have been impressed with Sam Skinner, Trent McKenzie is likely to be the third tall down back.
Over at West Lakes Lachlan Gollant is pushing to be one of the players Matthew Nicks turns to as he tries to fill the Taylor Walker-sized hole in his forward line for the first three games of the season.
Rory Laird's broken hand has opened the door for Jackson Hately and Luke Pedlar to push for potential places in the Crows midfield rotation.
FLYING UNDER THE RADAR
Crows coaches were extremely impressed with how Andrew McPherson returned to West Lakes in pre-season and he is primed for more responsibility in Adelaide's backline.
While Adelaide's forward line has been under the microscope, the Crows are keen to address their inability to stop teams scoring on them so freely.
Riley Bonner was one of the few Port Adelaide players who could hold their heads up high in the preliminary final loss to the Western Bulldogs and he has impressed this pre-season at Alberton.
Dan Houston's move to a wing has given Bonner a chance to claim a half-back spot as his own.
Originally published as AFL 2022: All the Adelaide Crows team news ahead of Round 1